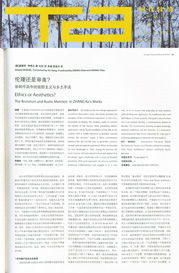 Ethics or Aesthetics? 
The Brutalism and Rustic Manners in ZHANG Ke's Works
Eduard KOEGEL, Translated by SU Hang, Proofread by ZHENG Chao and ZHANG Yifan
ABSTRACT By studying the two design approaches recurred in Zhang Ke's works, the article considers the dynamics of his architectural expression. In the micro courtyards in Beijing, the architect seeks to unearth the history of the houses while provoking visitors' speculation. Using found conditions of the site as the context, with a subtle reference to Brutalist material culture, the architect stages a direct conversation between the old and the new, to generate a distinct, sensual and perceptual experience. When surrounded by rural landscape in Tibet, Zhang Ke borrows the rustic manner of local material culture and applies it in his design, again, implicated with a touch of Brutalist sensitivity. With such approach, he aims to revitalize traditional craftsmanship and engage it in a new way, so as to sustain the originality of local practice while finding new application for traditional skills and techniques. In these projects, Zhang Ke's idea of urban and rural context denotes a contemporary debate of identity. This conversation, creating an equal exchange between craftsmen and the architect, is a productive social encounter that has to transcend the wide gap of economic development between the two regions.
[德]爱德华 · 柯格尔 著 苏杭 译 郑超 张益凡 校
摘要 文章通过分析张轲作品中的两种设计思路进而讨论建筑表现的相关问题。在北京的四合院中,建筑师试图展现历史脉络并激发观者的想象。以场地现存条件为改造发生的基础,通过轻粗野主义的物质文化视角,建筑师激起的新旧对话使观者产生了不一样的感官体验及思维认知。在西藏的乡野景观中,张轲对当地物质文化中乡土手法的运用,也暗含着一些粗野主义的意味。在这个环境下,他以一种新的方式来应用传统手工艺,使得在通过传统技艺寻求新途径时,原有地域文化得到了延续。在各