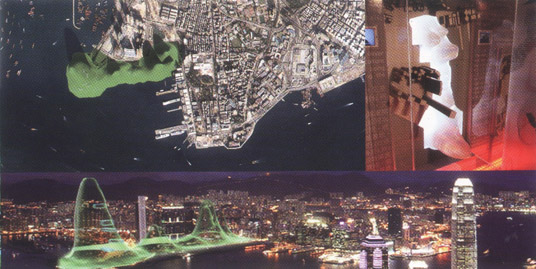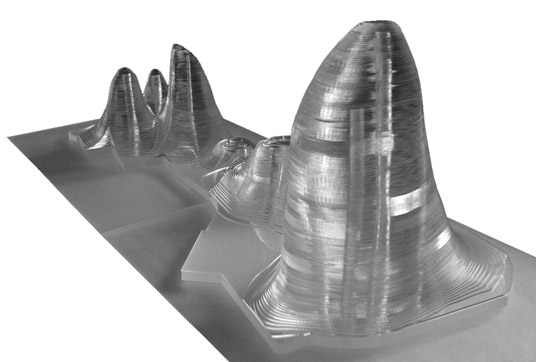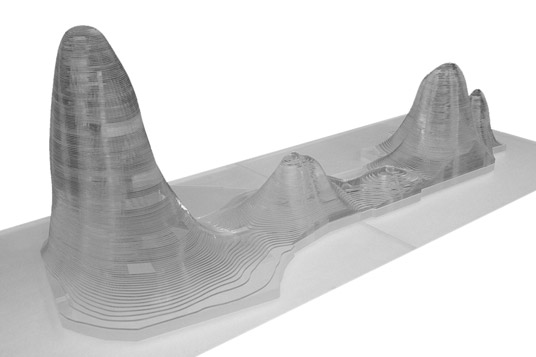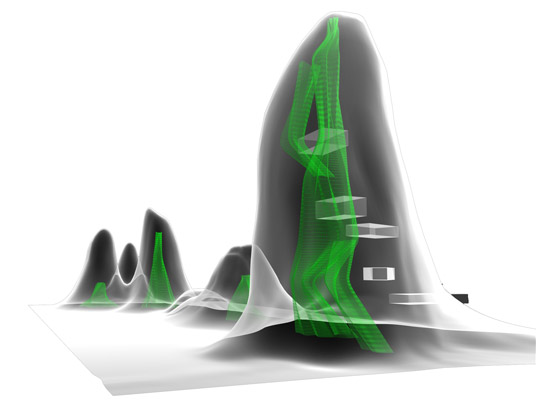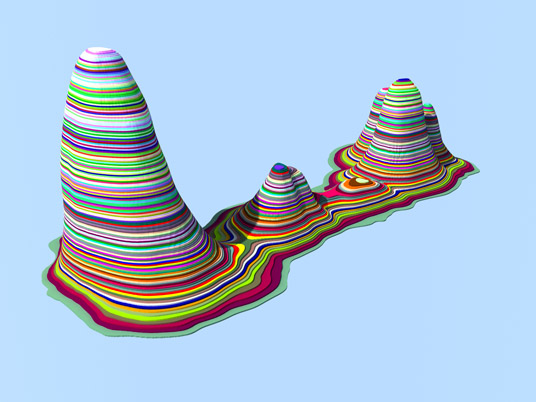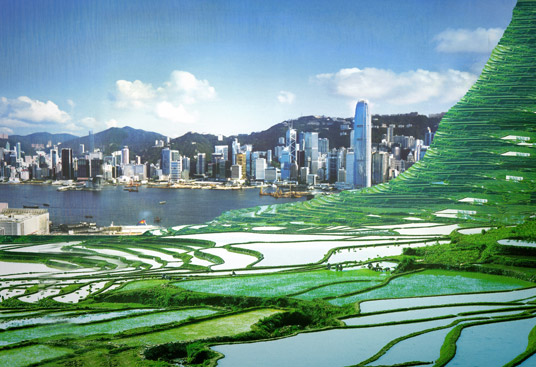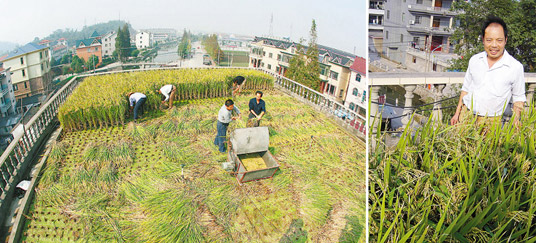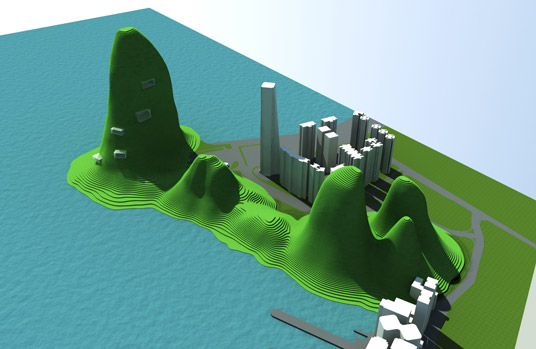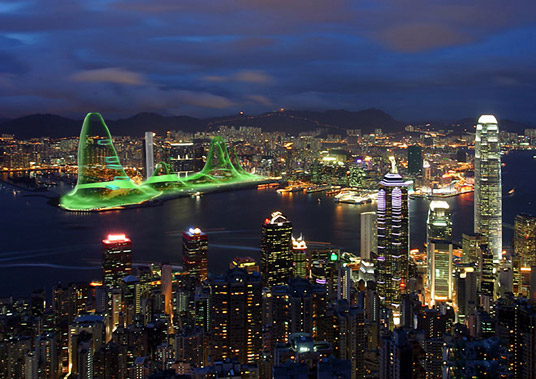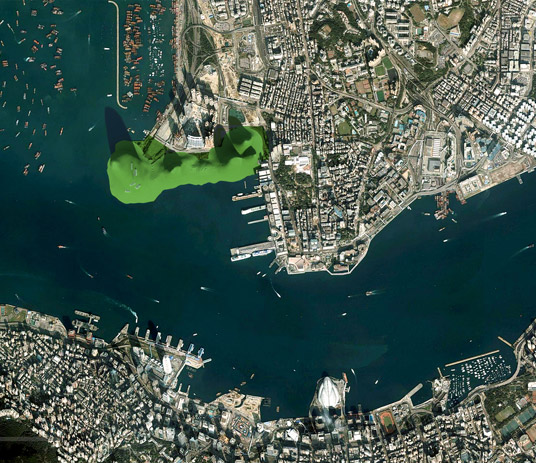 Laurence Liauw(LL): So let me start. This is an interview of Zhang Ke of Standardarchitecture for the Urban Void project exhibiting in 2007 Shenzhen Hong Kong Biennale.
廖维武:好现在让我们开始。这是对标准营造事务所张轲的采访,主题是有关2007香港深圳双年展的都市空虚项目。
Zhang Ke(ZK): An impression of Hong Kong is (that) all of the lands are extremely precious, and extremely densely occupied. And it is really surprising to see (that) there are such big pieces of land at West Kowloon and the Airport site is still vacant. Actually I'm not very sure why it's left open, not occupied. Laurence, do you know exactly why?
张轲:对于香港来说,问题是所有的用地都非常紧张,所有的用地都承受着高密度带来的巨大压力。可是在西九龙和机场附近仍然存在这样大片的土地闲置,确实是令人惊奇的事情。实际上我并不清楚是什么原因使这样大片土地闲置,至今没有被占用。Laurence,你清楚其中的原因吗?
LL: The site is a landfill. I think the government is still looking for a good scheme to transform it into a cultural district, I think it has resulted in the void being created. We are still waiting for some solutions, and a new proposal from the government.
廖维武:对于这样一个变革中的文化区域来说,我想这只是从其形成至今留下的一个结果。 我们一直在等待着某种解决方式,以及政府部门对今后发展的建议。
ZK: So similar to the airport site, it's left open not because people don't want to do something here. It's on the contrary people really want to do something here, and because it is so important that the government and society want make sure that things could happen in a right way. So my first impression of this land is it's so important not only for the West Kowloon, but also for the whole urban central area of Hong Kong. I can image that most of the typical Hong Kong images are taken from this direction towards Victoria bay. In fact this is the vista point of conventional Hong Kong. It is so important that it doesn't allow us to do something wrong there. It's funny to see that almost all of the former schemes are similar in terms of the over all strategy. For me as an outsider, it is very hard to understand it because I can image this piece of land is very costly to acquire by infill the water into a piece of land. And functionally I seriously doubt if it is feasible to simply put a few cultural centre there. I'm sure that the government is also worrying about how this cultural facility could be financially sustainable.
张轲:与机场地段类似的是,土地之所以被空置,并不是人们不想利用;相反的,人们的确想要开发这片土地,可是由于其重要性,政府及社会都要确认,在这片土地上进行的开发一定要按照正确的方式进行。所以我对这个地段的第一感觉是,它不仅仅对于西九龙来说非常重要,对整个香港城市中心来说也是非常重要的。可以想象绝大多数店乡的香港形象照片都是从这个角度面对维多利亚港拍摄的。实际上可以说这是一个观看传统香港的瞭望台。这是一个相当重要的地区,所以不允许我们做任何错误的开发。可是之前所有的规划方案都几乎相同的遵循了某种放之四海而皆准的指导方针,而对于像我这样一个局外人来说,这是很难理解的。因为这片土地是花费了巨大的代价填海而来的。从使用功能的方面来讲,我也很怀疑是否可以简单的将一个文化中心放置在这里。我向政府部门一定也在担心,这样的一个文化中心将怎样维持自身的运营。
ZK: I have been thinking since we started this urban void project. What does Hong Kong really need for the cultural district? What do the Hong Kong people expect a cultural centre to be if it is on the site? If it is not a cultural centre, what are the other possibilities? That is why on the first sketch we made about one month ago, I asked a series of question that if it could be the social housing, shopping, vista points? Or maybe huge parks that repeats the forty hectares of area again and again into the sky? Could it be a huge park or a movie base and a lot of other possibilities? The idea came to me if it is possible to create a series of cultural facilities such as performance centre, art galleries and museums, at the same time to provide opportunities for children or elderly to be able to go, and to have the best vista point and best possible way of looking at the Victoria bay and "The City" where they were born in and they can be proud of that. So is it possible to combine the possibilities of various types of landscape or vista points, and in the meantime to have very compact program to host the cultural facilities.
张轲:从开始都市空虚项目以来,我一直在考虑,香港到底需要一个什么样的文化中心,而香港人对于文化中心的期待又是什么?也许从另外一个方面来讲,如果这里不仅仅是一个文化中心,那么又存在怎样的可能性呢?这也是一个月前,在第一次草图阶段时,我提出这样一个严肃问题的原因。有没有这样的可能性,它是一个社区住宅,购物中心,观景台,或者只是一个在这样四十公顷土地上不断重复的摩天景观公园?它有没有可能成为一个巨大的园林空间或者电影外景地,甚至其他的各种可能性?所以我考虑,在建设一系列文化项目,例如汇演中心,艺术馆和博物馆的同时,我们是否可以给香港的儿童及老年人提供一个机会,使他们可以从最好的观景点来欣赏维多利亚湾以及这个他们自己出生成长的城市并会以此为荣。所以我认为存在这样一种可能性,我们可以将一系列景观元素、观景台与一系列紧凑的空间使用计划结合在一起,共同来支撑我们这个文化中心。
ZK: The other question is for such a big piece of land of 40 hectors, it never seems to me make sense to use all the land to build three to five cultural facilities, no matter how big they are. And financially I believe that it has to be balanced itself. So very practically the question is is there a solution that can provide the most for the people to experience the landscape at the same time to build enough building area and space for commercial development. So the biggest question is if this is possible at all? But from all the other existing schemes I don't see it. I saw mostly fancy forms of a same type of park that simply has cultural facilities inside arranged in different way. Especially the canopies I think they are mostly forms that I don't see the necessity of functions.
张轲:另外一个问题是,对于这样将近四十公顷的大片土地来说,使用全部土地来建设三到五座文化设施,不论其规模大小似乎都不太有道理。从经济的角度来说,我相信它必须要做到自身经济平衡。而最实际的解决方式就是尽最大的可能使人们在体验景观元素的同时也提供足够的商业发展空间。所以最大的问题就是到底有没有这样的可能性。可是在以往的规划方案中我完全没有看到这样的可能性。我只看到了各种形式的公共景观空间,文化设施以不同的方式组织在其中。尤其对于大顶蓬的设计,我认为它过于形式化,没有任何功能需求在其中。
ZK: A group of mountains, like a serious of Guilin mountains, built on this piece of land, and (the cultural venues) are like precious stones imbedded in the mountain. And the mountain itself has the forms much like the terraced farmland which named "Ti Tian" in Chinese.
张轲:也许我们可以将桂林的山移植到这片土地上,并且将宝石镶嵌在山中。而山本身的形式也许会更类似台阶状的农田――"梯田"。
ZK: Viewing from the bay area, it's no longer those typical urban vertical high-rise office buildings and hotels in front. A few Guilin mountains in the front and the office buildings in the back, inside the mountains there are hotel rooms for visitors to stay there with prime view of the bay. And the major mountain is about 550m high. Also in the performance centre there are still views towards the Victoria Bay. And the outside is actually farmland, terraced field that grows rice. The children and elder can have one piece of that land to grow rice. Also schools can use it for agriculture practice base. On the right hand side of this site, about two third of the space will be left for the office buildings and other housing and towers. So actually the mountain is occupied about one third of the total land. But the terraced field will be continued on the forty hectares. So in general I think the FAR instead of being about 2, it was 2.8 before, so now our scheme will provide much more built area than the competition requirement of 2.8. I guess it would be at least 6 to 8 FAR, so that the government and developers can have more financial base to make this development into reality.
张轲:从海湾看去,已经不再是典型的城市形态:垂直的摩天办公楼和酒店耸立在前面。如果我们桂林的山在前面而办公楼在后面,同时这些山也可以提供酒店房间,游客可以在此住宿并拥有独立的角度来观赏海湾。最高的一座山有550米高,就连汇演中心也可以拥有观景的角度。而山的外面则是真正的农田,是可以种植稻子的梯田。同时学校也可以用这些梯田作农学研究或者实验基地。而在我们用地的右半部分,仍然有三分之二左右的土地可以用来建设办公楼,住宅区以及塔楼。所以实际上我们的山只占用了全部土地的三分之一左右。可是我们的梯田将会延续下去,占满我们所有的四十公顷土地。所以总的来说,我认为我们的容积率将会大大的超过原来预定的2.8,预计将会达到6到8左右,所以政府和开发商将会拥有更大的经济支持来使发展计划变成现实。
ZK: On the other hand, I think it is very important to create a cultural icon. This thing is not just the fancy development, but also signifies the Hong Kong's attitude towards culture. It is going to be the tallest cultural tower in the world which we called "Hong Kong Cultural Mountain". And for the mountain itself, we are discussing about the possibility of making the inside as a huge Atrium space inside. And inside you can have the natural ventilation because of the height. It is able to create the natural wind inside the atrium. So there are many possibilities in the construction and realization of the project. Structurally it's no big deal, because it is a mountain, it is not one of the thin and high buildings. So I am showing one of the sketches in front of me to the video camera, so that you can see it.
张轲:同时我认为创建文化标识也是非常重要的。这不仅仅是一个奇特的形式发展,同时也会满足香港对于文化的需求。这将成为世界上最高的文化中心,我们可以经其命名为香港文化山脉。而对于山本身,我们正在讨论这样一种可能性,在山的内部可以形成一个巨大的独特的尽端空间。由于高度可以在这样一个尽端空间中形成自然风。而对于这个项目本身的建设实施,也同样存在各种各样的可能性。而结构上也不存在任何问题,因为这是一座山,不同于那些高耸的摩天楼。我现在展示一张草图,这样大家就可以更清楚地了解这个项目意向。
LL: And then how do you think this would contribute to the city differently compared to traditional development?
ZK: In terms of cityscape it is very hard to say that if it is architecture or only a landscape. It is both architecture and landscape at the same time. Basically we are creating man-made landform that is very tall so that various people could have the opportunities to practice the mountain climbing and agriculture learning classes and you can also go there to experience the art works and performances if enter from underground through the subway or parking area. But the outside surfaces are all naturally looking, except of a few of jewelry points on the mountain, they are the cultural facilities. And the openings also provide the possibility to see the Victoria Bay. In directions that were exclusive for high office towers, in the past you have to be someone who is able to have the view and enjoy it, because you have money or social position that allows you to be there. But here in this area it is open to everyone. You can simply climb outside of the mountain and enjoy the view. Also most importantly is that financially it's feasible. I think by providing more space, by putting the cultural centre inserted or actually imbedded in the mountain, we save at least two third of the land for other possible of the land development. Because financially I believe there need to be someone who has the motivation and interest to build the cultural facilities in this scale. It couldn't be simply from donations of any institutions. It needs to be balanced in terms of financial budgeting. ……….and even inside of the mountain, there would be commercial developments, too. The cultural facilities are taking at most one tenth of the space of the mountain. Nine tenth of the space inside the mountain could be hotels, shopping centers. So it could be the Hong Kong cultural mountain terrace land and maybe the tallest department store in the world.
张轲:从城市尺度来说,很难确切的定义这是一座建筑或者是纯粹的景观。它同时结合了建筑和景观。基本上说,我们在创造一种人造地形,它非常高,使人们有机会体验到爬山的乐趣,并学习农业知识;同时你也可以通过地铁或地下停车场进入到建筑内部来体验艺术品和文化表演。而建筑的外表皮则是非常自然的,只有一些像宝石一样的小盒子镶嵌在山上。这些就是我们的文化设施,同样它也提供了观赏维多利亚湾的良好视点。而在以前,如果你想登上那些摩天办公楼观赏到对岸的香港景色,你要么有钱,要么有足够的社会地位,否则就无法去欣赏这样的景色。但是现在,我们的这个建设区域是完全对公众开放的。你可以轻松的爬上山去享受美好的景色。项目本身在财政上同样也是可取的。我相信,通过提供更多的空间,将文化中心嵌入到山体中去,我们可以节省至少三分之二的土地来做其他开发。对于这样尺度的一座文化中心来说,我们需要一个投资商来进行开发,不可能有某种捐赠或者某个公共机构来单独承担。它必定需要达到某种经济上的平衡……甚至在山体的内部,我们同样可以做商业开发。文化设施最多只会占用山体内部十分之一的空间。剩下的十分之九都可以被用作酒店和商业中心。所以它可能在成为香港文化山区的同时,也成为世界上最高的商业中心。
ZK: And this program also will fit in Hong Kong more and more as the shopping city in china in the future. I think making shopping centre always fits Hong Kong, given the huge Chinese consuming population, imagine all of us go there just once for shopping. All of you can go the West Kowloon shopping tower to do that and to enjoy the view of Hong Kong, which used to be exclusive and now you can look at it from the mountain, if you like to climb it.
张轲:同样我们的开发计划也会更加推动香港成为中国最著名的购物城市。我觉得建设购物中心永远都会适合香港的发展,将更多的中国购物人群推向香港,想象我们去香港,可能唯一的目的就是去购物。所有人都会去西九龙摩天购物中心,同时在那里享受美丽的香港景色,这在以前是一种奢侈,而现在你可以简单的爬上山,美景就会呈现在眼前。
ZK: And also the rice field has forty hectares of surface of the terraced farmland. It also produces environmental impact. And also it can produce some organic rice for the Hong Kong people. That is a very direct result. So from the distance it looks all green and it is not like something with the hard surface as concrete or steel concrete. It is a piece of agricultural landscape imbedded in the centre of the city. I think it could be both the poetic and in terms of program it also fit for the city infrastructure.
张轲:在这四十公顷的土地上,我们会以梯田的形式种植稻子,这也会给我们带来良好的景观环境,同时也会为香港市民提供一些绿色粮食——这将是最直接的结果。所以从远处看,所有的东西都是绿色的,它没有像混凝土和钢筋这样硬质的表皮。它只是城市中心的一片农田景观。我认为这样的景观是很诗意的,而功能上也同样适应城市基础设施的要求。
LL: So thank you Zhang Ke for sharing your concept of the project. I have still some questions. First, I would say I'm very interested about your idea about the use of landform and you introduce the agriculture back into the city and defined a kind of agri-urbanism. It's very interesting that In the Shenzhen Biennale in one of the panel discussions there was a statement saying that possible human kind has exploited all kinds of urbanism, to-date maybe the last remaining form of unexploited urbanism is agriculture. Because as the world becomes more and more urbanized and especially in china there is less and less land and less and less green space, we can not go back. So maybe there is a type for humanity to de-urbanize as a strategic response. So I think your respond is exactly the kind of the attitude to a place like Hong Kong where we have completely pressure of urbanizing every square inch of valuable land that's released by the government. So that is my first respond and I don't know how you see the trend in terms of dealing with the cities, because the West Kowloon maybe the very special case. Could that attitude in other ways to improving our cities in China?
廖维武:感谢你向我们介绍这个设计理念,不过我还有几个问题。首先,我想说我对你的这个想法非常感兴趣,你利用了地形将梯田这个农业理念引入到城市设计中来,从而成新定义了一种农业城市概念。就像在深圳的双年展上在我们的论坛上我们也在讨论,人们好像已经从任何一个角度出发来定义城市设计的概念,也许最后一个还没被用过的城市理念就会是农业。因为这个世界变得越来越都市化,尤其在中国,可以开发利用的土地越来越少,绿地也越来越少,我们不可能再回到从前。所以这也正是我们应该关注的一个问题。我觉得你的这个想法正好合适像香港这样的地方,我们想把每平方英寸可以利用的土地都化为都市。而我的第一个反应则是,我不知道你怎样看待这个概念与城市发展的结合,也许西九龙只是一个特殊的个例。这种想法是否可以以某种其他的方式来改善中国的其他城市呢?
ZK: I think that is definitely one of the possible direction, but I am not suggesting that as the direction that could be applied everywhere. But it is possible. If we have more continuous land in the downtown Beijing, it is possible to do it even in Beijing. In building urban infrastructure and urban fabrics, one of the facts is that we have never thought of is that urban development and agriculture can be combined. We always thought of them as being contradictory. Actually they can be combined, one is using the outer surface, and the other is using the inner space. Maybe it can also provide the opportunity for energy saving or other environmental, even can help with dealing the global warming, but it's still an interesting direction to experiment.
张轲:我觉得这只是一种可能性,我并不建议将其视为一种可以到处应用的概念。但是在某种程度上,如果在城市中心拥有大片的土地,它是可以实现的。例如在北京也同样可以实现。当我们在建设城市基础设施和城市建筑的时候,以往我们并没有想到城市发展和农业可以结合在一起。而实际上它们是可以互相结合的,一个利用表面空间,另一个则利用内部空间。也许这种概念也同样可以达到某种节能的效果,甚至可以在全球变暖的过程中做出某种积极的响应,当然,这只是一种积极的想法,一种发展的可能性。
LL: So you know in shenzhen we talked a lot about the ecology of the cities. Actually using the ecology as a tool or a now tool for the urban development. Really not just look at the ecology as a metaphor but use it literally as a building material. And as a strategy, to in a way reclaim some of the land has been displacing nature. I think this displacement and disappearance of nature in city is concerning many architects especially people in our group.
廖维武:记得上一次在深圳的时候我们谈了许多有关城市生态的话题。实际上我们使用生态作为城市发展的一种手段或者说一种新的方式。我们只是将生态作为一种形式,而你将它作为一种建筑的材料。我们改变了一些土地的使用方式。我认为这种替代和消减是许多建筑师尤其是我们这个小组所共同关注的。
ZK: Yes, and also the interesting thing is the word agriculture, or we can use the agri-culture or we can even try to find another name maybe west Kowloon Agri-Cultural Centre or something like this. It is one of the most critical cultural landscapes in china. But this terraced field is very typical in certain part of china. So I think it is also very Chinese.
张轲:是的。同样一个有趣的话题是关于农业这个词。我们可以使用Agri-culture这个名称或者我们可以找到另外一个名字例如West Kowloon Agri-Cultural Centre或者与此类似的。也许这是一种处于临界状态的中国文化景观,但是梯田则是中国某些地区的传统农业方式,所以我认为这概念可以认为是中国的。
LL: My personal view in a place like Hong Kong compared with Beijing is really different, because Hong Kong's natural setting is already very mountainous. It's a pity that Hong Kong has been cutting down many of our mountains to quarry building materials over the past 50 to 100 years. Re-introducing mountains back to our cityscape maybe a very healthy solution. I don't see any conflict in what you are proposing. Maybe in the city of Beijing, it is quite flat…
廖维武:我的个人看法是,香港和北京有着巨大的差别,因为在香港,自然的山体早已被人工砍伐用作建筑材料,这已经是五十甚至一百年前的事情了。现在我们将山的概念重新带回到城市中来。我觉得这是一种很健康地解决方式,因为我没有看到任何混凝土一样的人工材料。可是对于你的这个设想,也许在另外的城市类似北京,北京的地势平缓……
ZK: So for Beijing it will be much lower hills and I think for the Guilin mountain and Hong Kong mountain, they would be very similar, they are both vertical and it works well with the verticality of Hong Kong urban form.
张轲:也许在北京,山势也会同样的变得平缓。不过我认为,桂林的山和香港的山,在某种程度上它们是存在相似性的,他们都是垂直的,所以在香港这样一个垂直的都市里,这种形势是很合适的。
LL: Zhang Ke, my second point is you highlight the new piece of the landform this architectural intervention, as kind of cultural landmark and cultural mountain that is sustainable for the cultural facilities and also for the financially driven facilities inside the mountain. I think it is very interesting how you use the inside and outside relationship of the mountain, where you have the translucent or transparent jewels looking out, and at the same time you put certain commercial facilities inside the mountain that do not require light. So I think it's very interesting how you really treat the mountain as a kind of condition to moderate what is nature, what is building, what should be viewed and what should be contained? I think that is a very kind of sensible response from my point of view.
廖维武:好,那么我们来说第二点,你特别强调了这种新型的建筑平台形式,作为文化的标志物和文化山体,所有的文化设施和金融设施都设置在山体内部。我觉得你对于内部和外部的利用方式是非常有趣的,而且还有一些透明的元素嵌入到山体中,提供观景空间。那么你是如何看待这个山体的内部空间呢?是作为一种自然形式还是一种建筑形式呢?
ZK: Yes, you are very correct. That is also we want to make sure that people don't misunderstand it as a fake mountain but something as man-made landscape and with programs inside. But it has simplicity and poetic qualities for the urban dwellers to look at from the opposite side of the bay.
张轲:这也正是我们需要确认的一个问题之一。我们不希望人们在第一眼就将其误解为是一座山,它是一个人工的景观元素,同时在其内部存在具体的使用功能。但它同时也具有一种简洁的美感,从城市空间来说,当人们从对岸观看的时候,它也同样具有观赏性。
LL: So landmark by definition is still tall but a landmark is no longer a building, and the landmark is really becomes a kind of part of our natural environment, and at the same time allowing the commercial…..
那么现在,标志物仍然是高耸的,但已经不再是一座建筑,它是自然环境的一部分,但是仍然有商业空间存在其中……