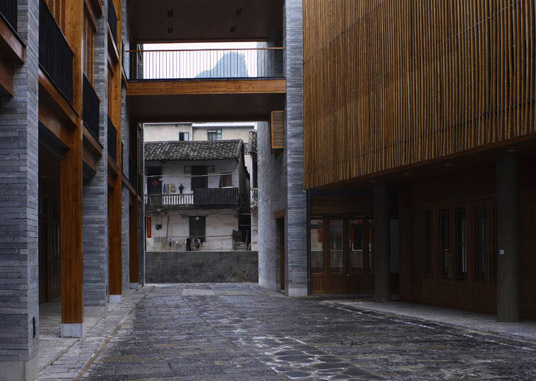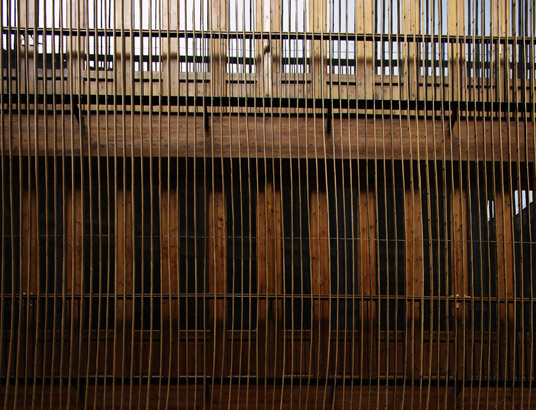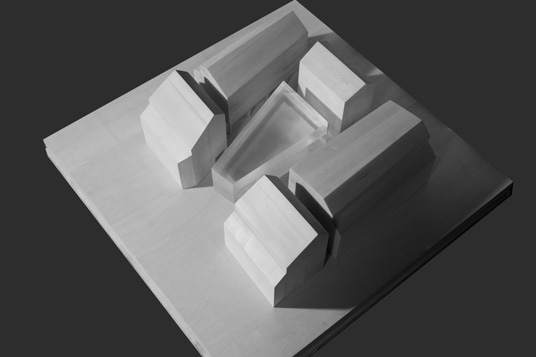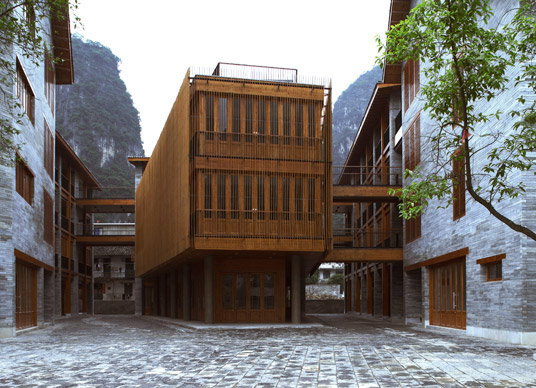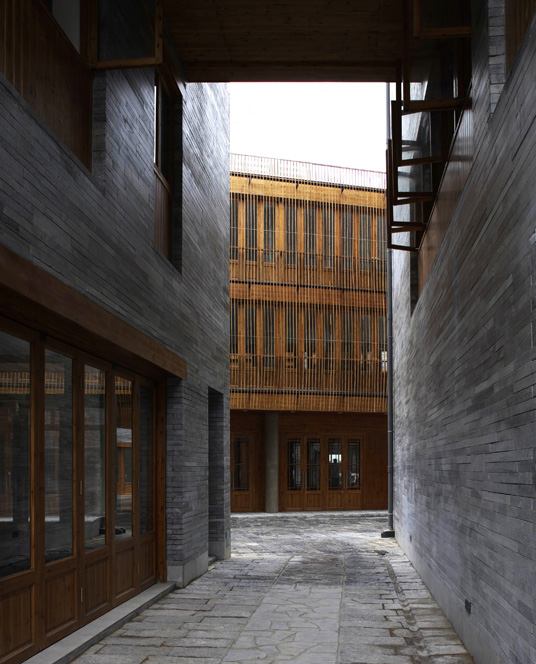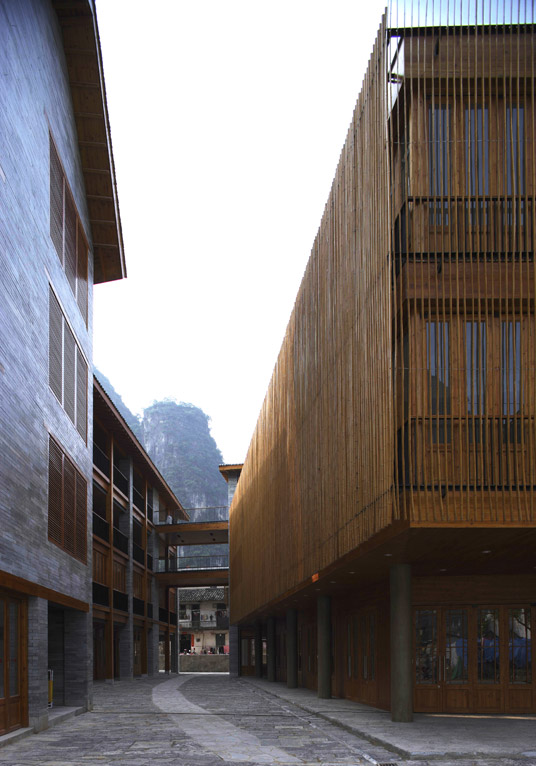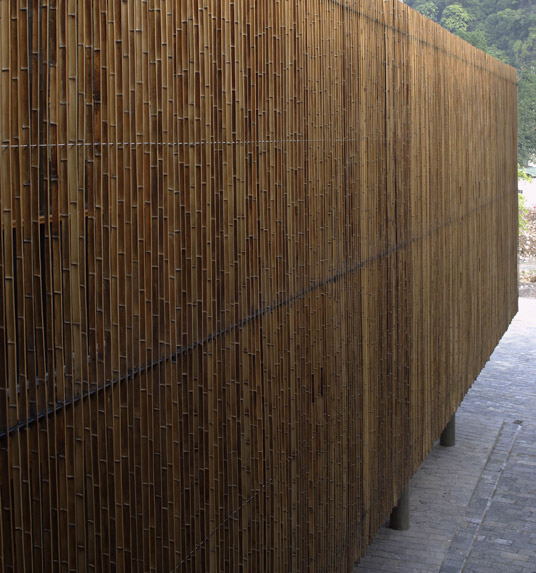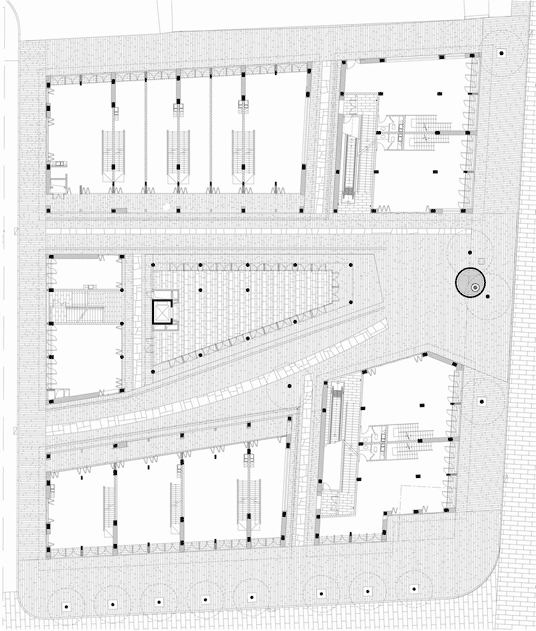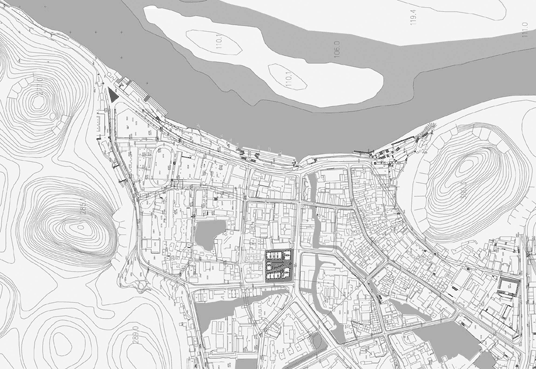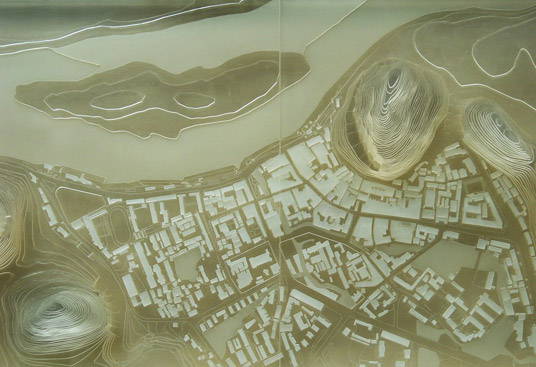 The small neighborhood is built on a block of 2300 sqm and is comprised of five small alleys and six separate buildings. The buildings occupy the entire boundary of the site, and the main alleys inside work as continuations of the neighboring urban fabric. We adopted a native way to have the main alleys point toward the major mountains nearby, namely the Lotus and the Dragon Head Mountain. As a result of this layout, all the six buildings become irregular in their plans. On the ground floor there are small shops and the shop owners live on the second floor. There are corridors linking all the buildings on the 3rd and 4th floor. Units of these floors each have a bathroom and a kitchen. They could function either as apartments or as shops. Passing through the bridges linking each building, people will always find special views toward the surrounding Karst Mountains.
The neighborhood is built mainly with four local materials: the blue-greenish Yangshuo stone, Larch wood panels, small grey tiles and bamboo stripes. The "city control regulation" asks for all the buildings to be painted white. We found the regulation is a total mistake. The local villages never have large area of white-washed walls. The villages were all built with exposed local stone and grey bricks.
Seen from a distance, the storefronts have nothing startling. While coming closer, most people will be surprised by the appearance of the central building. Bamboo stripes of 6-meter-long and 6-centimeter-wide are placed at 8 centimeter distance from each other, with right angle to the building facade. Behind the bamboo layer, there is a layer of folding wood panels. When the wood panels are opened, people could have a sense that there is only a curtain of bamboo stripes between them and the Karst Mountains.
这个占地仅2300平方米的小街坊由五条街道和六栋相对独立的建筑组成,建筑占满了用地的边界,主要内部街道的走向考虑到城市肌理的延续性,并遵照当地的习惯朝向周边的主要山峰:碧莲峰和龙头峰,因此几栋楼几乎都是不规则的形状。街坊的一层由很多个独立的小店面组成,店铺的主人们就住在自己店面的楼上。小街坊的三层、四层由半室外走廊串成空中的街道,其中每个单元都设有独立的厨房和卫生间,既可居住也可以用作店面,人们在穿过空中平台时总能看见小街所对着的喀斯特山峰。

建造小街坊的四种主要材料都产自当地:青灰色阳朔石、毛竹片、杉木板和小青瓦。阳朔的控制性规划要求所有的房子都刷成白粉墙,我们发现这个规定是个明显的错误,桂北的民居村落极少是白粉墙的,大多是由本地的石材和灰砖砌筑而成的,我们最后还是坚持用阳朔石砌筑建筑的墙体。小街坊从远处看去并不显眼,走近以后人们会被街坊中心的建筑所吸引,采自漓江边的毛竹被劈开成6m长、60mm宽的竹片,每个竹片间隔80mm垂直于墙面卡在专门为此设计的角钢挂件上,竹片幕的背后是一道木质折叠门,当折叠门完全打开的时候,室内喝茶的人们与喀斯特山峰之间就只有一层竹片之隔了。