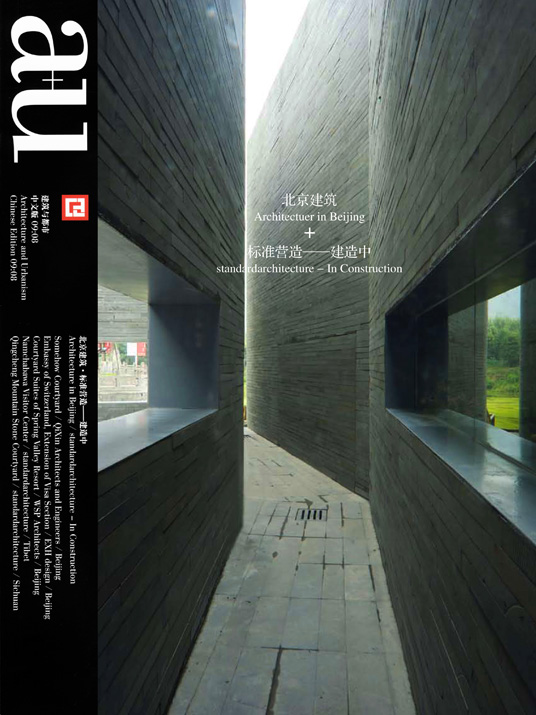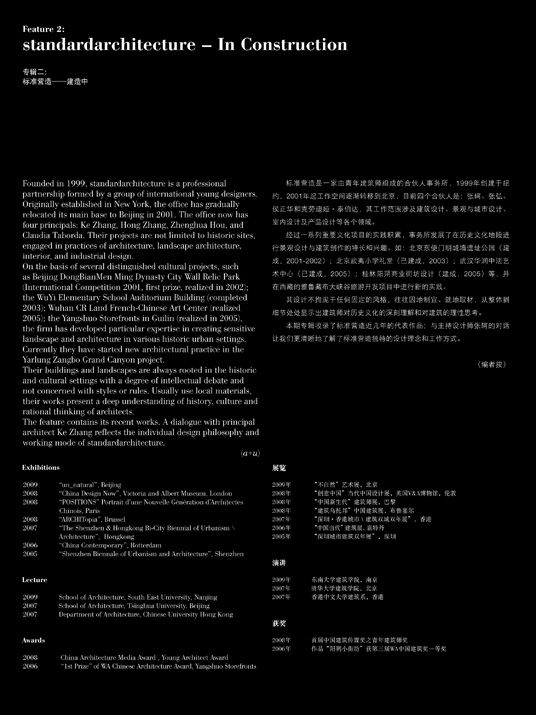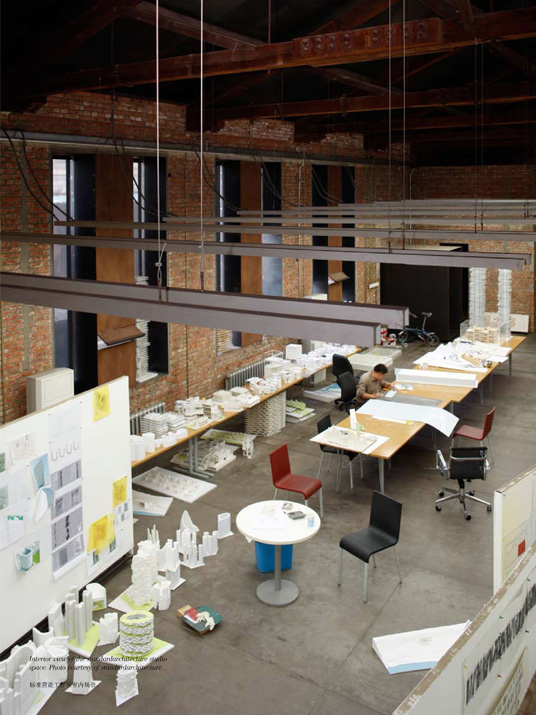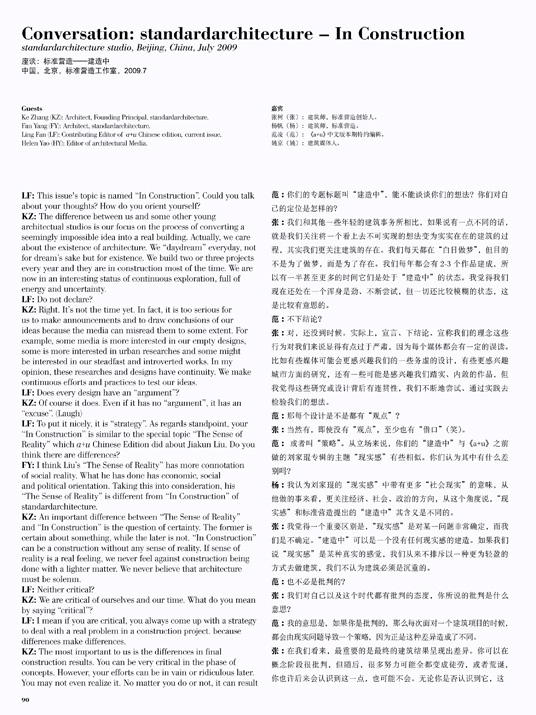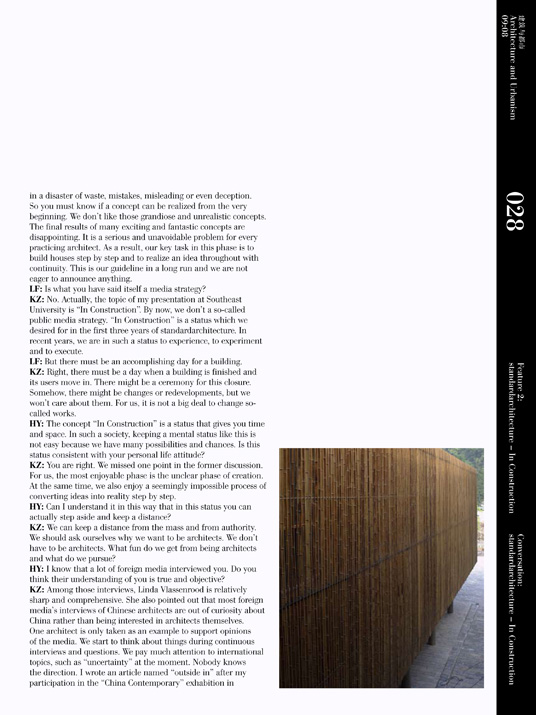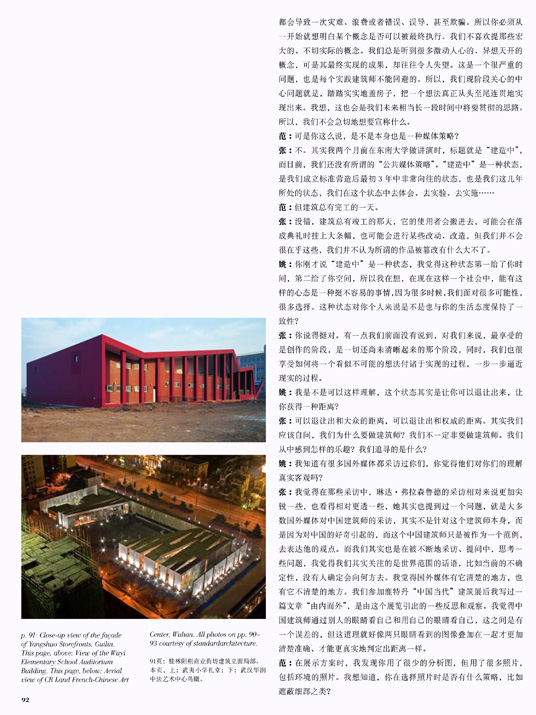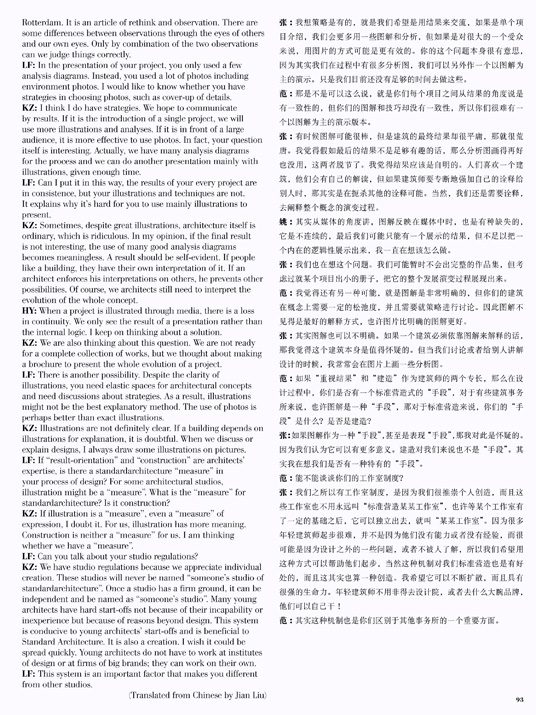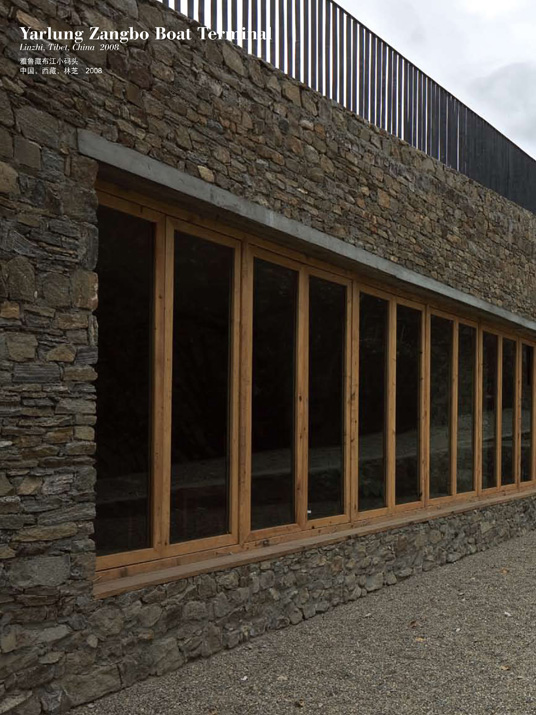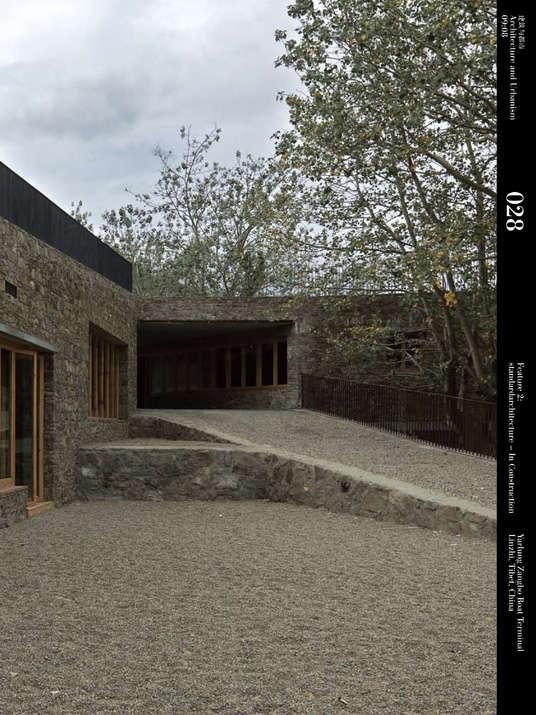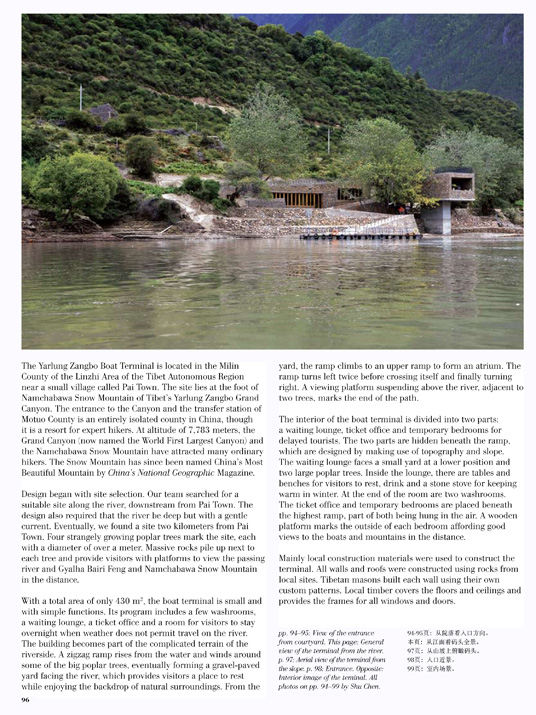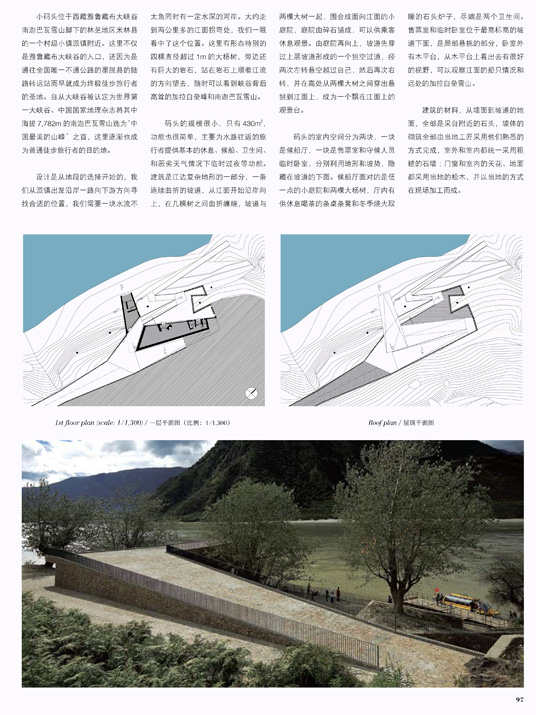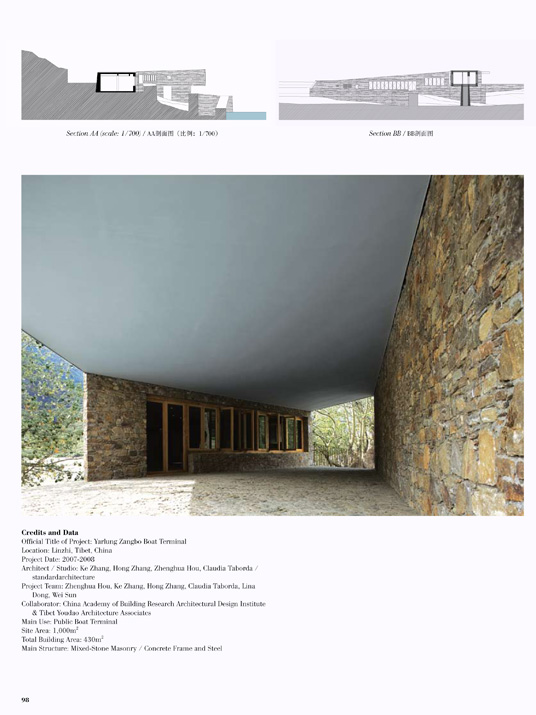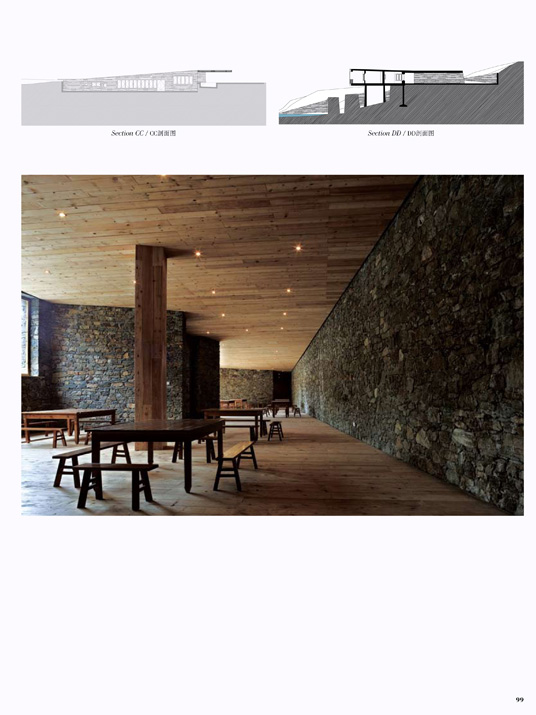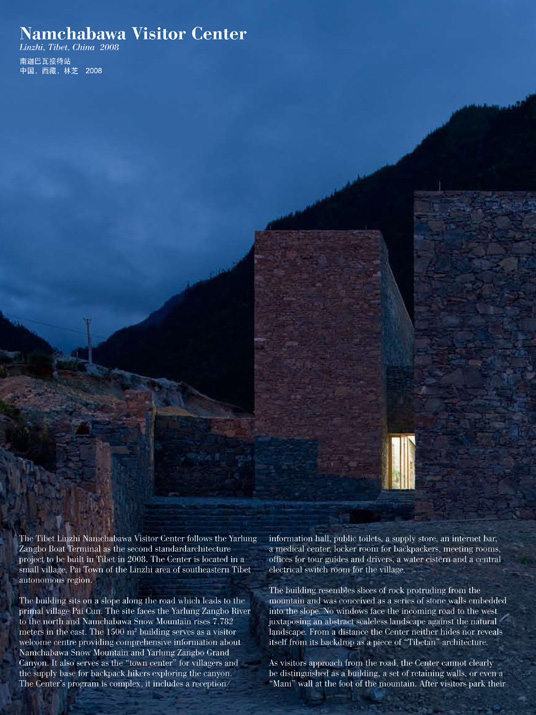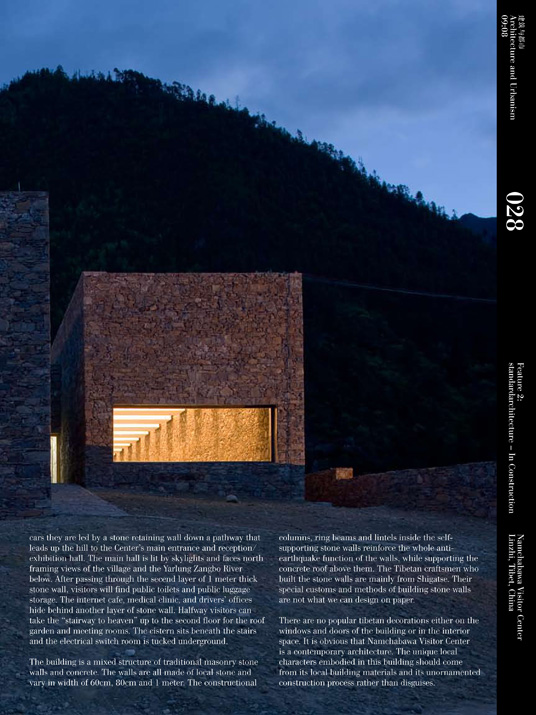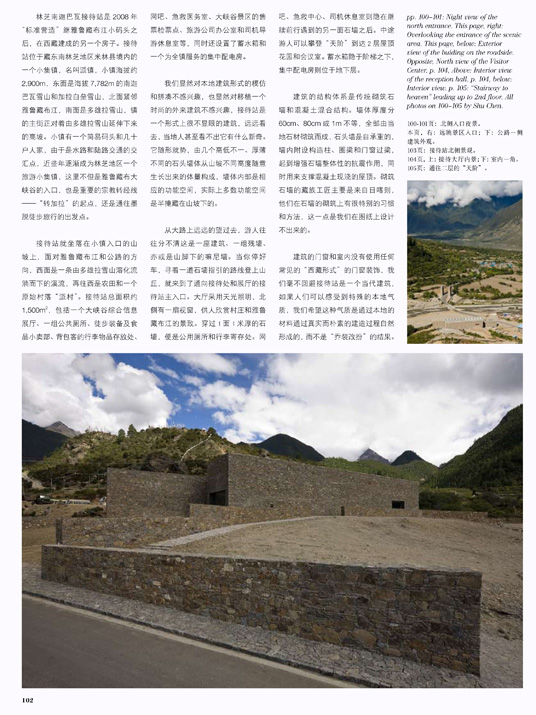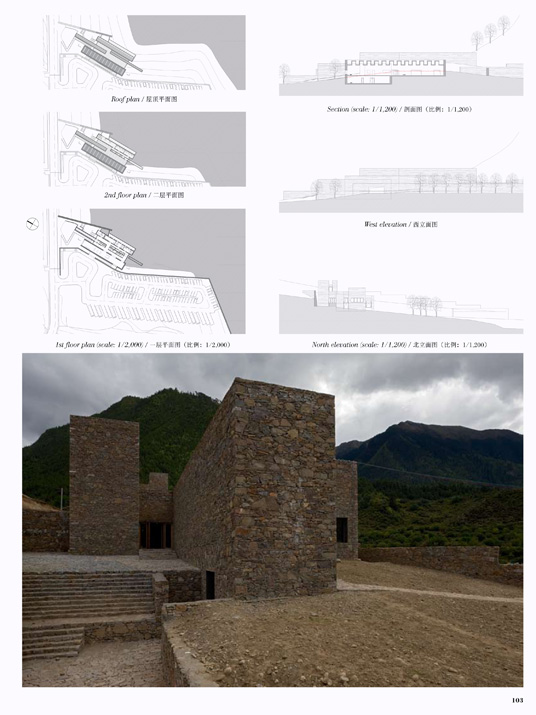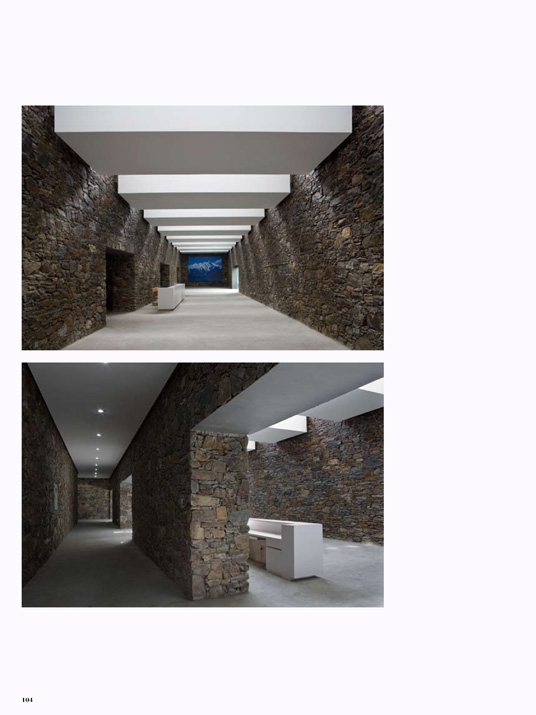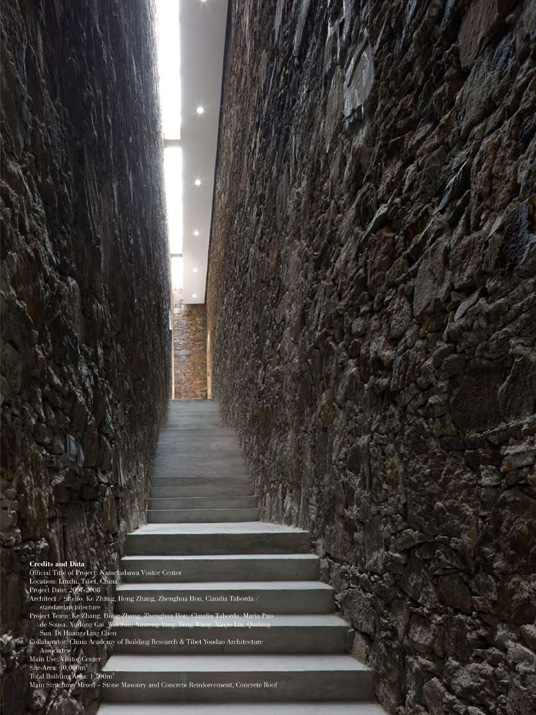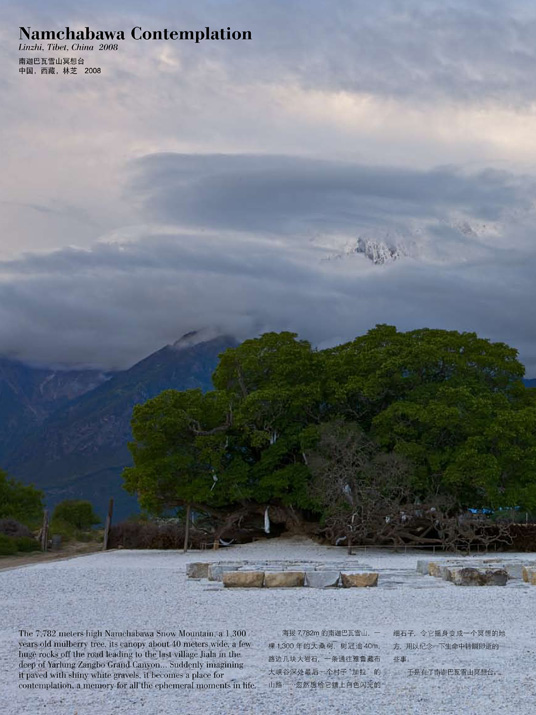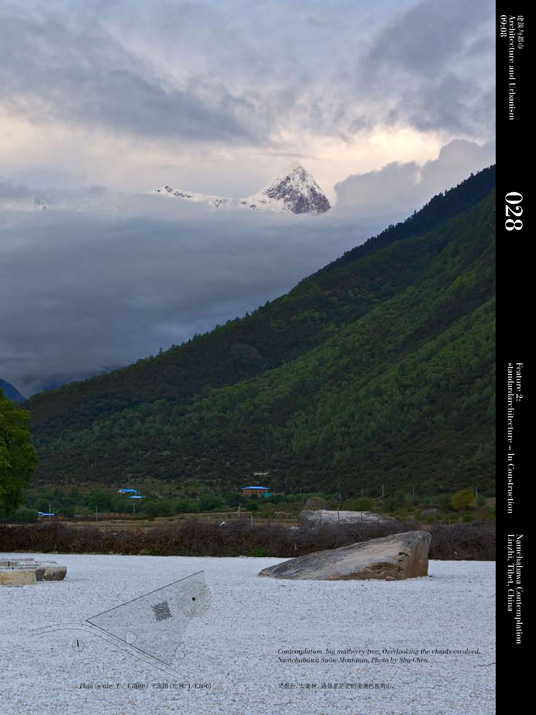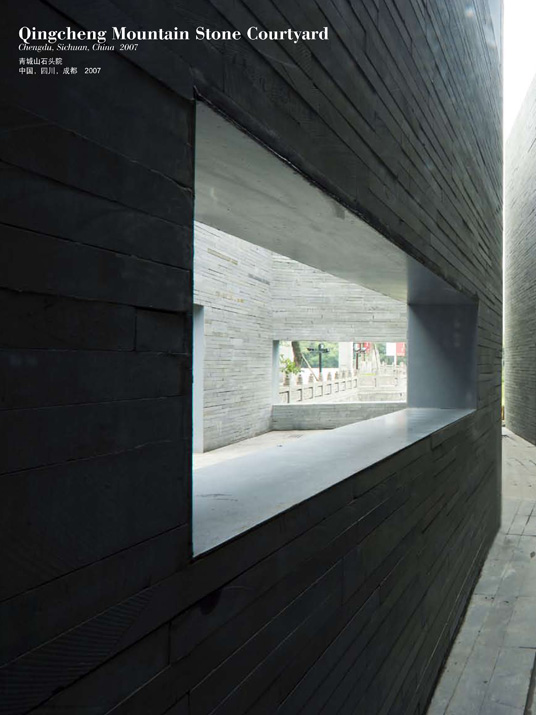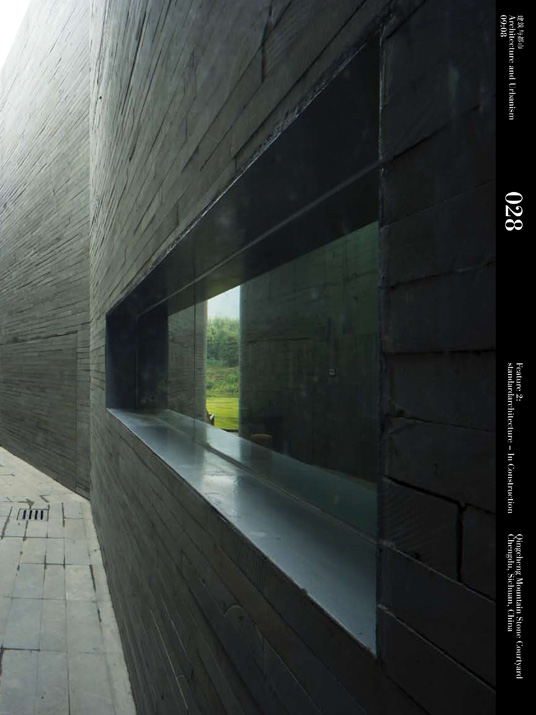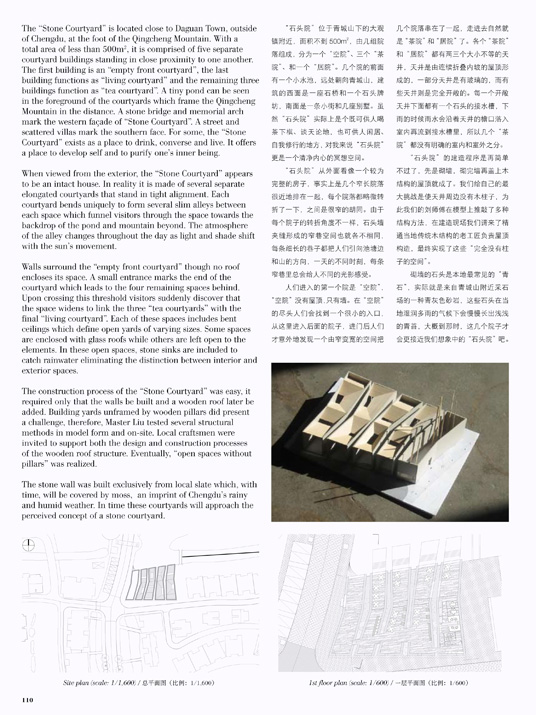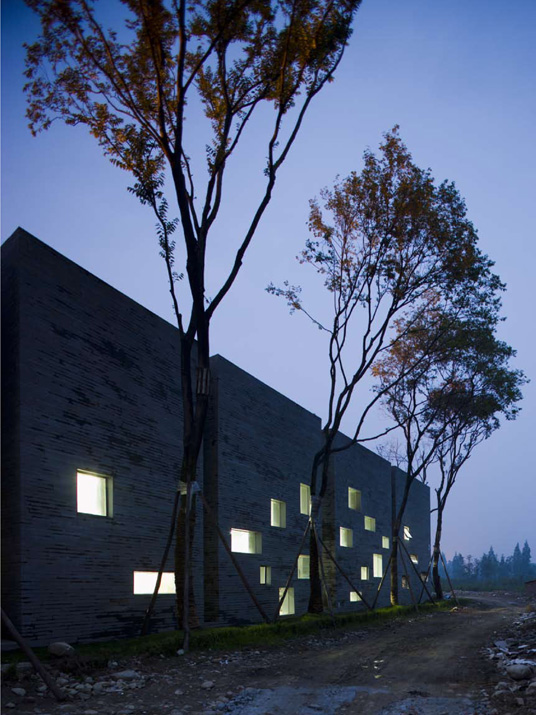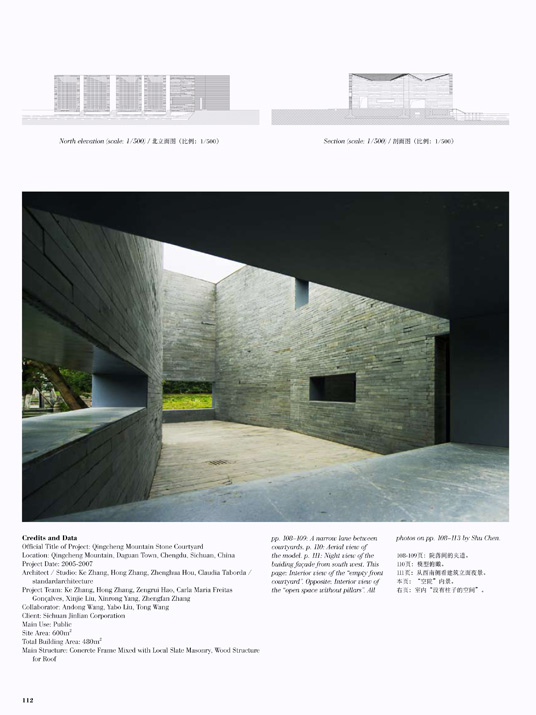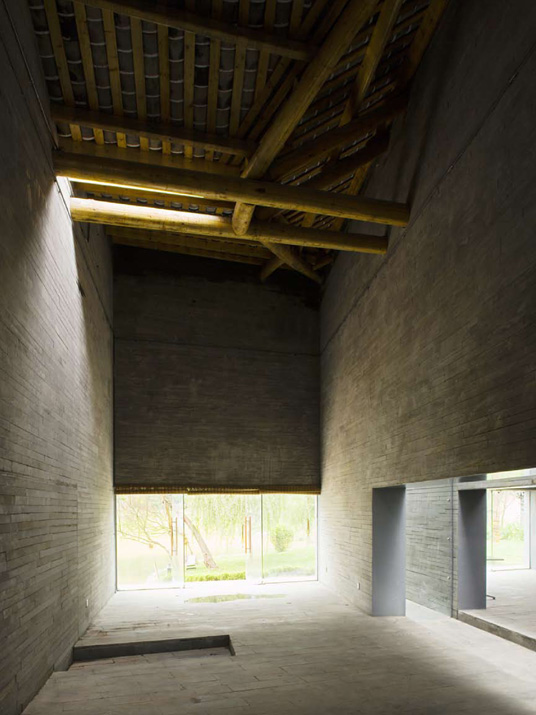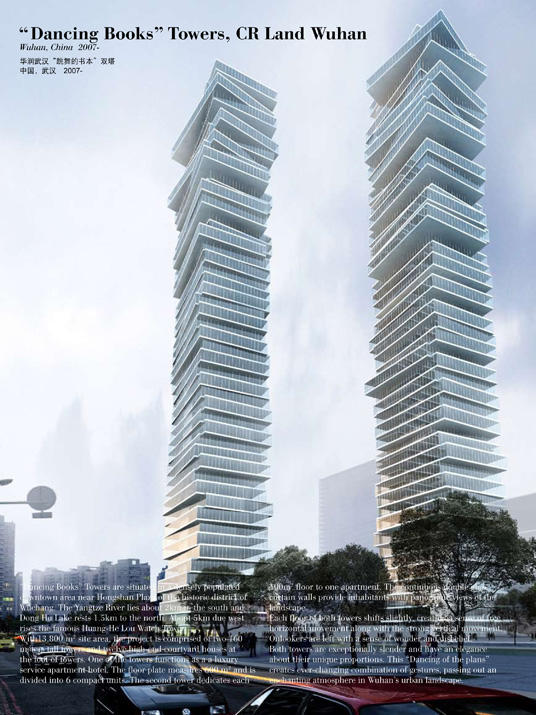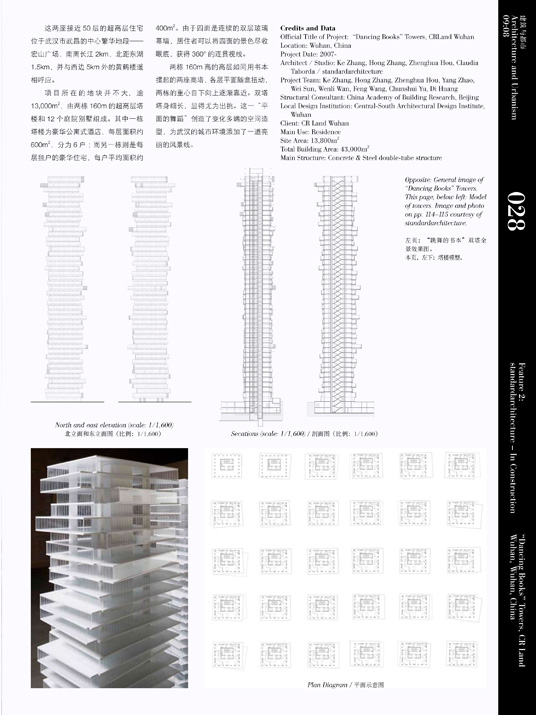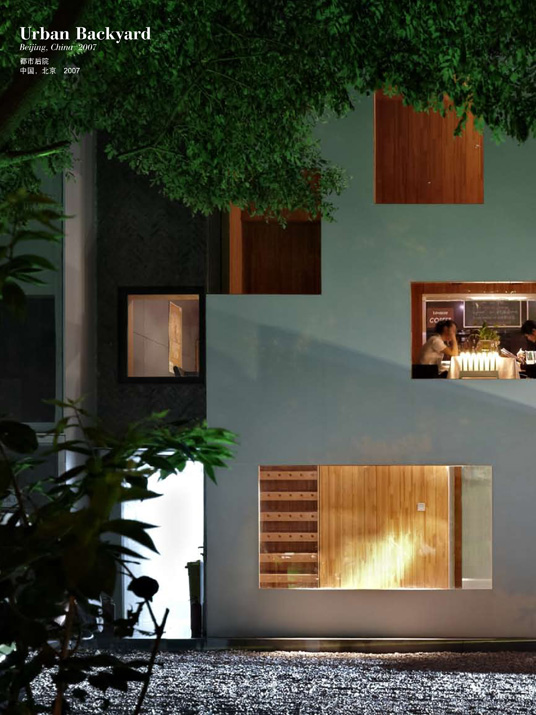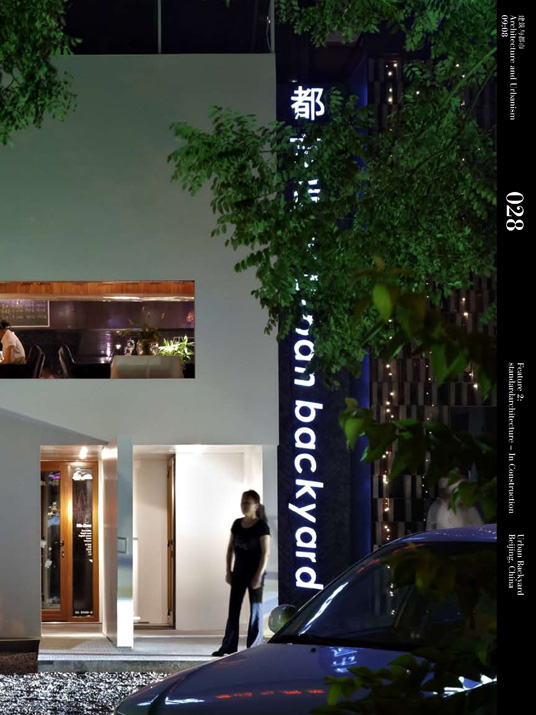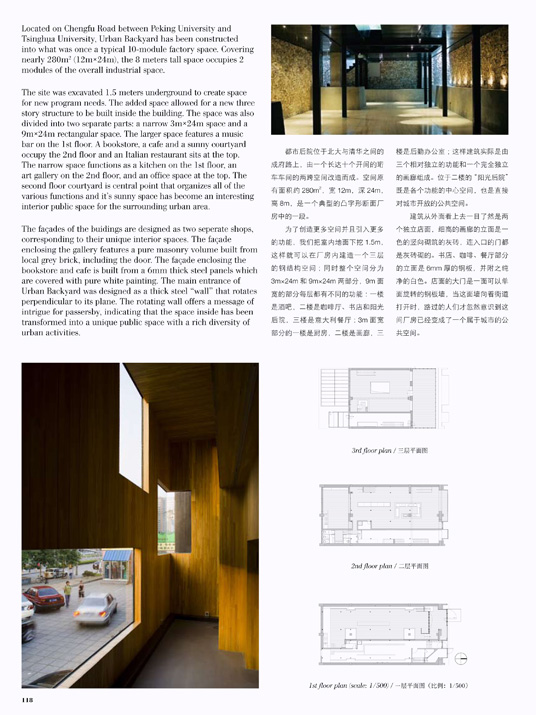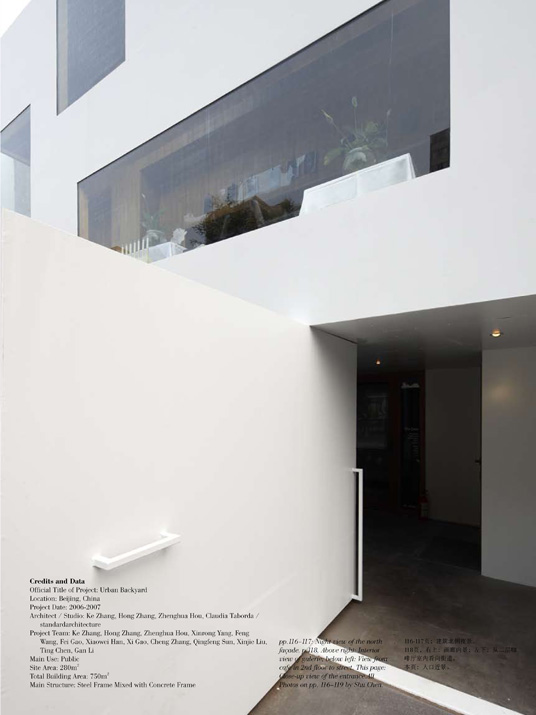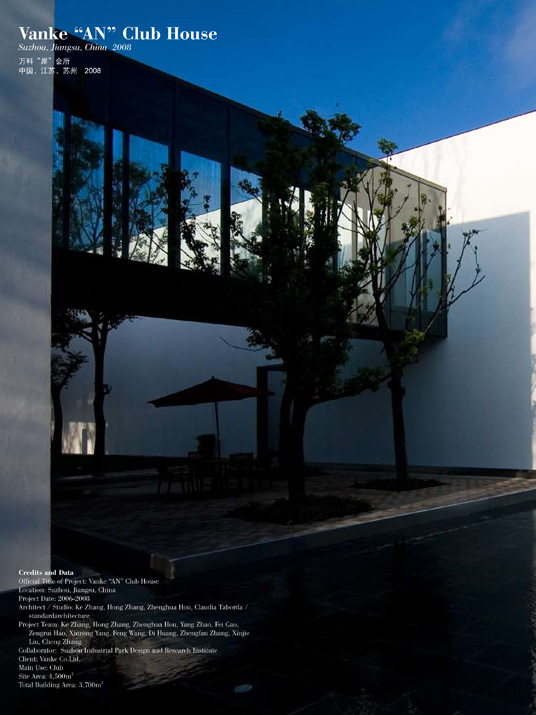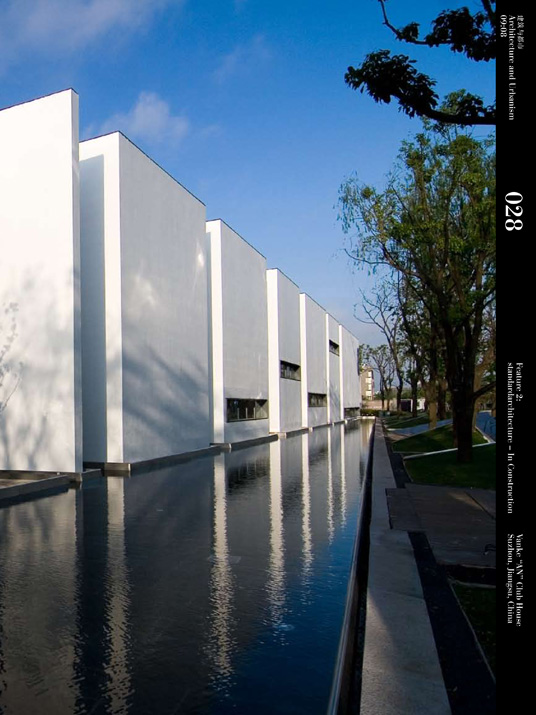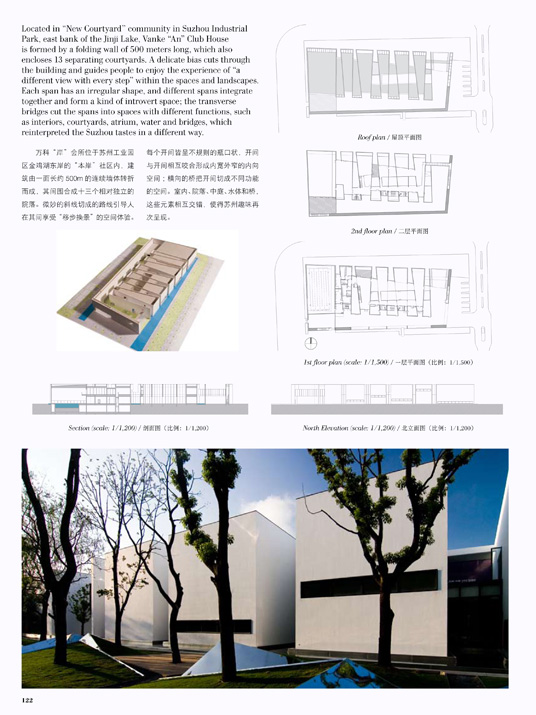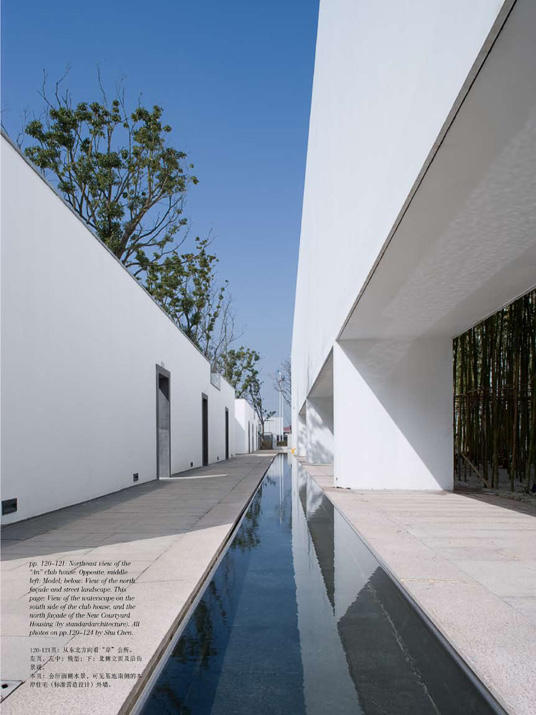 Feature 2:
standardarchitecture - In Construction
Founded in 1999, standardarchitecture is a professional partnership formed by a group of international young designers. Originally established in New York, the office has gradually relocated its main base to Beijing in 2001. The office now has four principals: Ke Zhang, Hong Zhang, Zhenghua Hun, and Claudia Taborda. Their projects are not limited to historic sites, engaged in practices of architecture, landscape architecture, interior, and industrial design.
On the basis of several distinguished cultural projects, such as Beijing DongBianMen Ming Dynasty City Wall Relic Park (International Competition 2001, first prize, realized in 2002); tlie WuYi Elementary School Auditorium Building (completed 2003); Wuhan CR Land French-Chinese Art Center (realized 2005); the Yangshuo Storefronts in Guilin (realized in 2005), the firm has developed particular expertise in creating sensitive landscape and architecture in various historic urban settings. Currently they have started new architectural practice in the Yarlung Zangbo Grand Canyon project.
Their buildings and landscapes are always rooted in the historic and cultural settings with a degree of intellectual debate and not concerned with styles or rules. Usually use local materials, their works present a deep understanding of history, culture and rational thinking of architects.
Tlie feature contains its recent works. A dialogue with principal architect Ke Zhang reflects the individual design philosophy and working mode of standardarchitecture.
Exhibitions
2009    "un_natural", Beijilig
2008    "China Design Now", Victoria and Albert Museum. London
2008    "POSITIONS" Portrait d'une Nouvelle Génération d'Architectes Chinois, Paris
2008    "ARCHITopia", Brnssel
2007    "The Shenzhen & Hongkong Bi-City Biennial of Urbanism \ Architecture", Hongkong
2006    "China Contemporary", Rotterdam
2005    "Shenzhen Biennale of Urbanism and Architecture", Shenzhen
Lecture
2009    School of Architecture, South East University, Nanjing
2007    School of Architecture, Tsinghua University. Beijing
2007    Department of Architecture, Chinese University Hong Kong
Awards
2008    China Architecture Media Award, Young Architect Award
2006    "Ist Prize" of WA Chinese Architecture Award, Yangshuo Storefronts
Conversation: standardarchitecture - In Construction
standardarchitecture studio, Beijing, China, July 2009
Guests
Ke Zhang (KZ): Architect, Founding Principal, standardarchitecture.
Fan Yang (FY): Architect, standardarchitecture.
Ling Fan (LF): Contributing Editor of a+u Chinese edition, current issue.
Helen Yao (HY): Editor of architectural Media.
LF: This issue's topic is named "In Construction". Could you talk about your thoughts? How do you orient yourself?
KZ: The difference between us and some other young architectual studios is our focus on the process of converting a seemingly impossible idea into a real building. Actually, we care about the existence of architecture. We "daydream" everyday, not for dream's sake but for existence. We build two or three projects every year and they are in construction most of the time. We are now in an interesting status of continuous exploration, full of energy and uncertainty.
LF: Do not declare?
KZ: Right. It's not the time yet. In fact, it is too serious for us to make announcements and to draw conclusions of our ideas because the media can misread them to some extent. For example, some media is more interested in our empty designs, some is more interested in urban researches and some might be interested in our steadfast and introverted works. In my opinion, these researches and designs have continuity. We make continuous efforts and practices to test our ideas. 
LF: Does every design have an "argument"?
KZ: Of course it does. Even if it has no "argument", it has an "excuse". (Laugh)
LF: To put it nicely, it is "strategy". As regards standpoint, your "In Construction" is similar to the special topic "The Sense of Reality" which a+u Chinese Edition did about Jiakun Liu. Do you
think there are differences?
FY: I think Liu's "The Sense of Reality" has more connotation of social reality. What he has done has economic, social and political orientation. Taking this into consideration, his "The Sense of Reality" is different from "In Construction" of standardarchitecture.
KZ: An important difference between "The Sense of Reality" and "In Construction" is the question of certainty. The former is certain about something, while the later is not. "In Construction" can be a construction without any sense of reality. If sense of reality is a real feeling, we never feel against construction being done with a lighter matter. We never believe that architecture must be solemn.
LF: Neither critical?
KZ: We are critical of ourselves and our time. What do you mean by saying "critical"?
LF: I mean if you are critical, you always come up with a strategy to deal with a real problem in a construction project. Because differences make differences.
KZ: The most important to us is the differences in final construction results. You can be very critical in the phase of concepts. However, your efforts can be in vain or ridiculous later. You may not even realize it. No matter you do or not, it can result in a disaster of waste, mistakes, misleading or even deception. So you must know if a concept can be realized from the very beginning. We don't like those grandiose and unrealistic concepts. The final results of many exciting and fantastic concepts are disappointing. It is a serious and unavoidable problem for every practicing architect. As a result, our key task in this phase is to build houses step by step and to realize an idea throughout with continuity. This is our guideline in a long run and we are not eager to announce anything.
LF: Is what you have said itself a media strategy?
KZ: No. Actually, the topic, of my presentation at Southeast University is "In Construction". By now, we don't a so-called public media strategy. "In Construction" is a status which we desired for in the first three years of standardarchitecture. In recent years, we are in such a status to experience, to experiment and to execute. 
LF: But there must be an accomplishing day for a building.
KZ: Right, there must be a day when a building is finished and its users move in. There might be a ceremony for this closure. Somehow, there might be changes or redevelopments, but we won't care about them. For us, it is not a big deal to change so-called works. HY: The concept "In Construction" is a status that gives you time and space. In such a society, keeping a mental status like this is not easy because we have many possibilities and chances. Is this status consistent with your personal life attitude?
KZ: You are right. We missed one point in the former discussion. For us. the most enjoyable phase is the unclear phase of creation. At the same time, we also enjoy a seemingly impossible process of converting ideas into reality step by step.
HY: Can I understand it in this way that in this status you can actually step aside and keep a distance?
KZ: We can keep a distance from the mass and from authority. We should ask ourselves why we want to be architects. We don't have to be architects. What fun do we get from being architects and what do we pursue?
HY: I know that a lot of foreign media interviewed you. Do you think their understanding of you is true and objective?
KZ: Among those interviews, Linda Vlassenrood is relatively sharp and comprehensive. She also pointed out that most foreign media's interviews of Chinese architects are out of curiosity about
China rather than being interested in architects themselves. One architect is only taken as an example to support opinions of the media. We start to think about things during continuous interviews and questions. We pay much attention to international topics, such as "uncertainty" at the moment. Nobody knows the direction. I wrote an article named "outside in" after my participation in the "China Contemporary" exhabition in Rotterdam. It is an article of rethink and observation. There are some differences between observations through the eyes of others and our own eyes. Only by combination of the two observations can we judge things correctly.
LF: In the presentation of your project, yon only used a few analysis diagrams. Instead, you used a lot of photos including environment photos. I would like to know whether you have strategies in choosing photos, such as cover-up of details.
KZ: I think I do have strategies. We hope to communicate by results. If it is the introduction of a single project, we will use more illustrations and analyses. If it is in front of a large audience, it is more effective to use photos. In fact, your question itself is interesting. Actually, we have many analysis diagrams for tlie process and we can do another presentation mainly with illustrations, given enough time.
LF: Can I put it in this way, the results of your every project are in consistence, but your illustrations and techniques are not. It explains why it's hard for you to use mainly illustrations to present.
KZ: Sometimes, despite great illustrations, architecture itself is ordinary, which is ridiculous. In my opinion, if the final result is not interesting, the use of many good analysis diagrams becomes meaningless. A result should be self-evident. If people like a building, they have their own interpretation of it. If an architect enforces his interpretations on others, he prevents other possibilities. Of course, we architects still need to interpret the evolution of the whole concept.
HY: When a project is illustrated through media, there is a loss in continuity. We only see the result of a presentation rather than the internal logic. I keep on thinking about a solution.
KZ: We are also thinking about this question. We are not ready for a complete collection of works, but we thought about making a brochure to present the whole evolution of a project. 
LF: There is another possibility. Despite the clarity of illustrations, you need elastic spaces for architectural concepts and need discussions about strategies. As a result, illustrations might not be the best explanatory method. The use of photos is perhaps better than exact illustrations.
KZ: Illustrations are not definitely clear. If a building depends on illustrations for explanation, it is doubtful. When we discuss or explain designs, I always draw some illustrations on pictures.
LF: If "result-orientation" and "construction" are architects' expertise, is there a standardarchitecture "measure" in your process of design? For some architectural studios. illustration might be a "measure". What is the "measure" for standardarchitecture? Is it construction?
KZ: If illustration is a "measure", even a "measure" of expression. I doubt it. For us, illustration has more meaning. Construction is neither a "measure" for us. I am thinking whether we have a "measure".
LF: Can you talk about your studio regulations?
KZ: We have studio regulations because we appreciate individual creation. These studios will never be named "someone's studio of standardarchitecture". Once a studio has a firm ground, it can be independent and be named as "someone's studio". Many young architects have hard start-offs not because of their incapability or inexperience but because of reasons beyond design. This system is conducive to young architects' start-offs and is beneficial to Standard Architecture. It is also a creation. I wish it could be spread quickly. Young architects do not have to work at institutes of design or at firms of big brands; they can work on their own.
LF: This system is an important factor that makes you different from other studios.
专辑二:
标准营造——建造中 
标准营造是一家由青年建筑师组成的合伙人事务所,1999年创建于纽约,2001年起工作空间逐渐砖移到北京, 目前四个合伙人是:张珂、张弘、侯正华和克劳迪娜•泰伯达,其工作范围涉及建筑设计、景观与城市设计、室内设计及产品设计等各个领域。
经过一系列重要文化项目的实践积累,事务所发展了在历史文化地段进行景观设计与建筑创作的特长和兴趣。如:北京东便门明城墙遗址公园 (建成,2001-2002);北京武夷小学礼堂 (己建成,2003);武汉华润中法艺术中心 (已建成,2005);桂林阳朔商业街坊设计 (建成,2005)等,并在西藏的雅鲁藏布大峡谷旅游开发项目中进行新的实践。
其设汁不拘泥于任何固定的风格,往往因地制宜、就地取材,从整体到细节处处显示出建筑师对历史文化的深刻理解和对建筑的理性思考。
本期专辑收录了标淮营造近几年的代表作品;与主持设计师张珂的对话让我们更清晰地了解了标准营造独特的设计理念和工作方式。                                                          
展览
2009年        "不自然"艺术展,北京
2008年        "创意中国"当代中国设汁展,英国V&A博物馆,伦敦
2008年        "中国新生代"建筑师展,巴黎
2008年        "建筑乌托邦"中国建筑展,布鲁寨尔
2007年        "深圳•香港城市 \ 建筑双城奴年展",香港
2006年        "中国当代"建筑展,鹿特丹
2005年        "深圳城市建筑双年展",深圳
演讲
2009年        东南大学建筑学院,南京
2007年        清华大学建筑学院,北京
2007年        香港中文大学建筑系,香港
获奖
2008年        首届中国建筑传媒奖之青年建筑师奖
2006年    作品"阳朔小街坊"获第三届WA中国建筑奖一等奖
座谈:标准营造——建造中
中国,北京,标准营造工作室,2009.7
嘉宾
张轲(张):建筑师,标准营造创始人。
杨帆(杨):建筑师,标准营造。
范凌(范):《a+u》中文版本期特约编辑。
姚京(姚):建筑媒体人。
范:你们的专题标题叫"建造中",能不能谈谈你们的想法?你们对自己的定位是怎样的?
张:我们和其他一些年轻的建筑事务所相比,如果说有一点不同的话,就是我们关注将一个看上去不可实现的想法变为实实在在的建筑的过程,其实我们更关注建筑的存在。我们每天都在 白日做梦",但目的不是为了做梦,而是为了存在。我们每年都会有2-3个作品建成,所以有一半甚至更多的时间它们是处于"建造中"的状态。我觉得我们现在还处在一个浑身是劲、不断尝试,但一切还比较模糊的状态,这是比较有意思的。
范:不下结论?
张:对,还没到时候。实际上,宣言、下结论、宣称我们的理念这些行为对我们来说显得有点过于严肃,因为每个媒体都会有一定的误读。比如有些媒体可能会更感兴趣我们的一些务虚的设计,有些更感兴趣城市方面的研究,还有一些可能是感兴趣我们踏实、内敛的作品,但我觉得这些研究或设计背后有连贯性,我们不断地尝试、通过实践去检验我们的想法。
范:那每个设计是不是都有"观点"?
张:当然有,即使没有"观点",至少也有"借口"(笑)。
范:或者叫"策略"。从立场来说,你们的"建造中"与《a+u》之前做的刘家琨专辑的主题"现实感"有些相似。你们认为其中有什么差别吗?
杨:我认为刘家琨的"现实感"中带有更多"社会现实"的意味,从他做的事来看,更关注经济、社会、政治的方向,从这个角度说,"现实感"和标准营造提出的"建造中"其含义是不同的。
张:我觉得一个重要区别是,"现实感"是对某一问题非常确定,而我们是不确定。"建造中"可以是一个没有任何现实感的建造。如果我们说"现实感"是某种真实的感觉,我们从来不排斥以一种更为轻盈的方式去做建筑,我们不认为建筑必须是沉重的。
范:也不必是批判的?
张:我们对自己以及这个时代都有批判的态度,你所说的批判是什么意思?
范:我的意思是,如果你是批判的,那么每次面对一个建筑项目的时候,都会由现实问题导致一个策略,因为正是这种差异造成了不同。
张:在我们看来,最重要的是最终的建筑结果呈现出差异。你可以在概念阶段很批判,但随后,很多努力可能全都变成徒劳,或者荒诞,你也许后来会认识到这一点,也可能不会。无论你是否认识到它,这都会导致一次灾难、浪费或者错误、误导,甚至欺骗。所以你必须从一开始就想明白某个概念是否可以被最终执行。我们不喜欢提那些宏大的、不切实际的概念。我们总是听到很多激动人心的、异想大开的概念,可是其最终实现的成果,却往往令人失望。这是一个很严重的问题,也是每个实践建筑师不能回避的。所以,我们现阶段关心的中心问题就是,踏踏实实地盖房子,把一个想法真正从头至尾连贯地实现出来。我想,这也会是我们未来相当长一段时间中将要贯彻的思路。所以,我们不会急切地想要宣称什么。
范:可是你这么说,是不是本身也是一种媒体策略?
张:不。其实我两个月前在东南大学做讲演时,标题就是"建造中",而目前,我们还没有所谓的"公共媒体策略"。"建造中"是一种状态,是我们成立标准营造后最初3年中非常向往的状态,也是我们这几年所处的状态,我们在这个状态中去体会、去实验、去实施……
范:旧建筑总有完工的一天。
张:没错,建筑总有竣工的那天,它的使用者会搬进去,可能会在落成典礼时挂上大条幅,也可能会进行某些改动、改造,但我们并不会很在乎这些,我们并不认为所谓的作品被篡改有什么大不丁。
姚:你刚才说"建造中"是一种状态,我觉得这种状态第一给了你时间,第二给了你空间,所以我在想,在现在这样一个社会中,能有这样的心态是一种挺不容易的事情,因为很多时候,我们面对很多可能性,很多选择。这种状态对你个人来说是不是也与你的生活态度保持了一致性?
张:你说得挺对。有一点我们前面没有说到,对我们来说,最享受的是创作的阶段,是一切还尚未清晰起来的那个阶段,同时,我们也很享受如何将一个看似不可能的想法付诸于实现的过程,一步一步逼近现实的过程。
姚:我是不是可以这样理解,这个状态其实是让你可以退让出来,让你获得一种距离?
张:可以退让出和大众的距离,可以退让出和权威的距离。其实我们应该自问,我们为什么要做建筑师?我们不一定非要做建筑师。我们从中感到怎样的乐趣?我们追寻的是什么?
姚:我知道有很多国外媒体都采访过你们,你觉得他们对你们的理解真实客观吗?
张:我觉得在那些采访中,琳达•弗拉森鲁德的采访相对来说更加尖锐一些,也看得相对更透一些,她其实也提到过一个问题,就是大多数国外媒体对中国建筑师的采访,其实不是针对这个建筑师本身,而是因为对中国的好奇引起的,而这个中国建筑师只是被作为一个范例,去表达他的观点。而我们其实也是在被不断地采访、提问中,思考一些问题,我觉得我们其实关注的是世界范围的话语,比如当前的不确定性,没有人确定会向何方去。我觉得国外媒体有它清楚的地方,也有它不清楚的地方。我们参加鹿特丹"中国当代"建筑展后我写过一篇文章"由内而外",是由这个展览引出的一些反思和观察。我觉得中国建筑师通过别人的眼晴看自己和用自己的眼晴看自己,这之间是有一个误差的,但这道理就好像两只眼睛看到的图像叠加在一起才更加清楚准确、才能更真实地判定出距离一样。
范:在展示方案时,我发现你用了很少的分忻图,但用了很多照片,包括环境的照片。我想知道,你在选择照片时是否有什么策略,比如遮蔽细部之类?
张:我想策略是有的,就是我们希望是用结果来交流,如果是单个项目介绍,我们会更多用一些图解和分析,但如果是对很大的一个受众来说,用图片的方式可能是更有效的。其实你的这个问题本身很有意思,因为其实我们在过程中有很多分析图,我们可以另外作一个以图解为主的演示。只是我们目前还没有足够的时间去做这些。
范:那是不是可以这么说,就是你们每个项目之间从结果的角度说是有一致性的,但你们的图解和技巧却没有一致性,所以你们很难有一个以图解为主的演示版本。
张:有时候图解可能很棒,但是建筑的最终结果却很平庸,那就很荒唐。我觉得假如最后的结果不是足够有趣的话,那么分析图画得再好也没用,这两者脱节了。我觉得结果应该是自明的。人们喜欢一个建筑,他们会有自己的解读,但如果建筑师要专断地强加自己的诠释给别人时,那其实是在扼杀其他的诠释可能。当然,我们还是需要诠释,去阐释整个概念的演变过程。
姚:其实从媒体的角度讲,图解反映在媒体中时,也是有种缺失的,它是不连续的,最后我们可能只能有一个展示的结果,但不足以把一个内在的逻辑性展示出来,我一直在想该怎么做。
张:我们也在想这个问题。我们可能暂时不会出完整的作品集,但我们考虑过就某个项目出小的册子,把它的整个发展演变过程展现出来。
范:我觉得还有另一种可能,就是图解是非常明确的,但你们的建筑在概念上需要一定的松弛度,并且需要就策略进行讨论。因此图解不见得是最好的解释方式,也许图片比明确的图解更好。
张:其实图解也可以不明确,冯仕达不是说过有14种图解吗?如果一个建筑必须依靠图解来解释的话,那我觉得这个建筑本身是值得怀疑的。但当我们讨论或者给别人讲解设计的时候,我常常会在图片上画¬一些分析图。
范:如果"重视结果"和"建造"作为建筑师的两个专长,那么在设计过程中,你们是否有一个标准营造式的"手段",对于有些建筑事务所来说,也许图解是一种"手段",那对于标准营造来说,你们的"手段"是什么?是否是建造?
张:如果图解作为一种"手段",甚至是表现"手段",那我对此是怀疑的。因为我们认为它可以有更多意义。建造对我们来说也不是"手段"。其实我在想我们是否有一种特有的"手段"。
范:能不能谈谈你们的工作室制度?
张:我们之所以有工作室制度,是因为我们很推崇个人创造,而且这些工作室也不用永远叫"标准营造某某工作室",也许等某个工作室有了一定的基础之后,它可以独立出去,就叫"某某工作室"。因为很多年轻建筑师起步很难,并不是因为他们没有能力或者没有经验,而很可能是因为设计之外的一些问题,或者不被人了解,所以我们希望用这种方式可以帮助他们起步,当然这种机制对我们标准营造也是有好处的,而且这其实也算一种创造。我希望它像病毒一样,不断扩散,而且具有很强的生命力。年轻建筑师不用非得去设计院,或者去什么大腕品牌,他们可以自己干!
范:其实这种机制也是你们区别于其他事务所的一个重要方面。