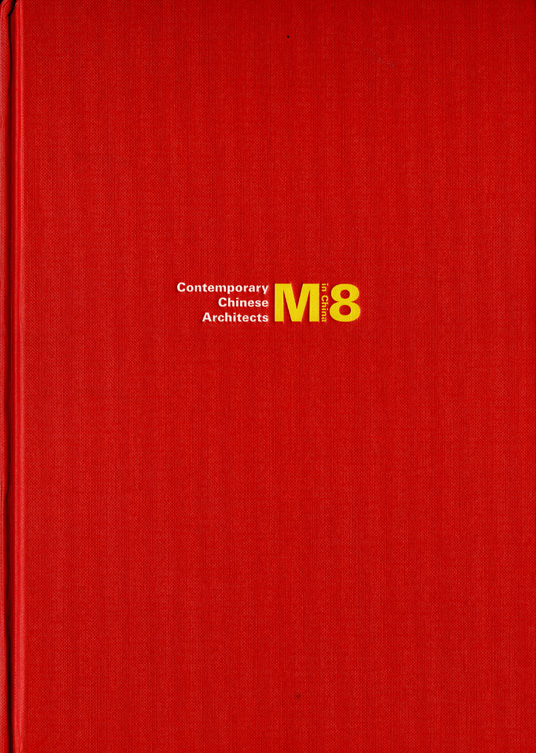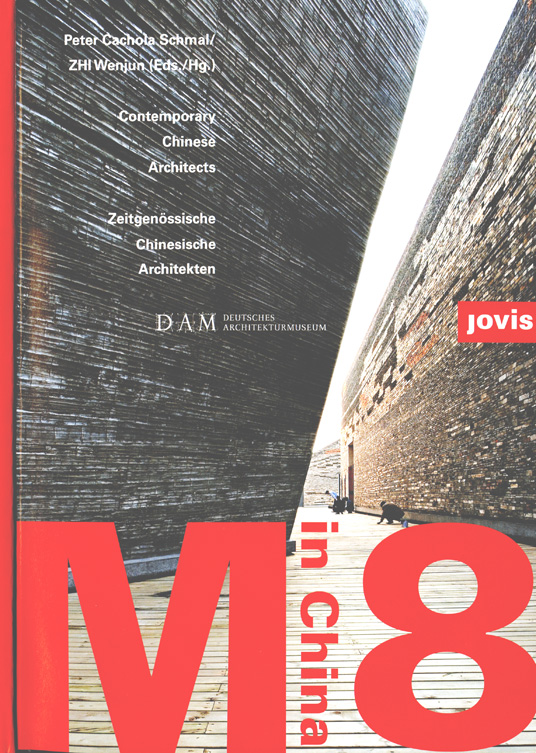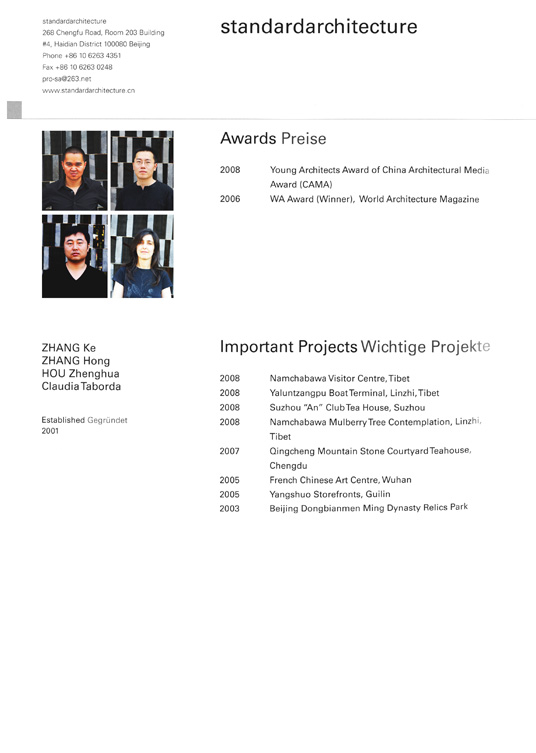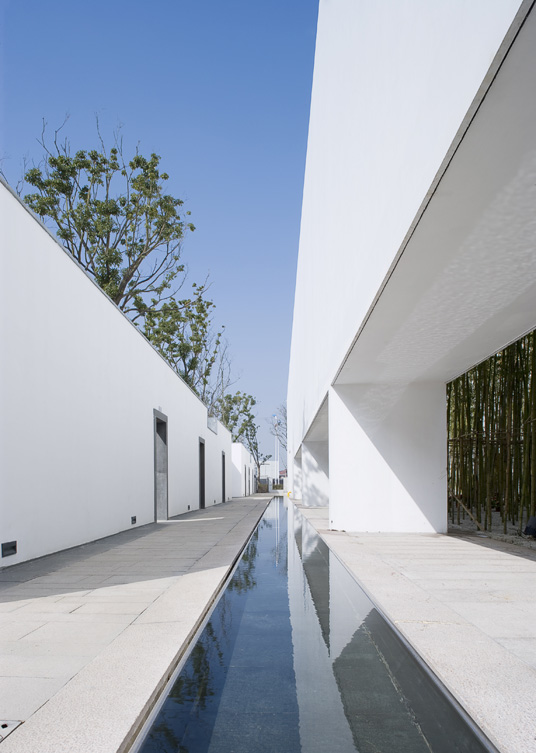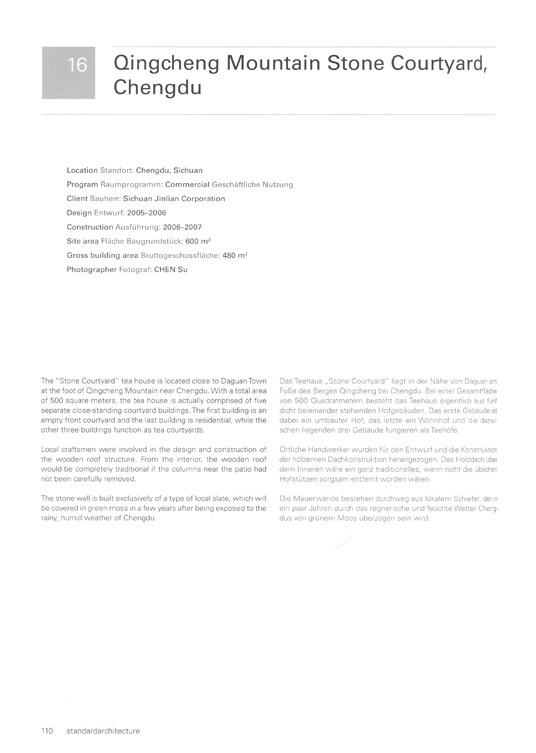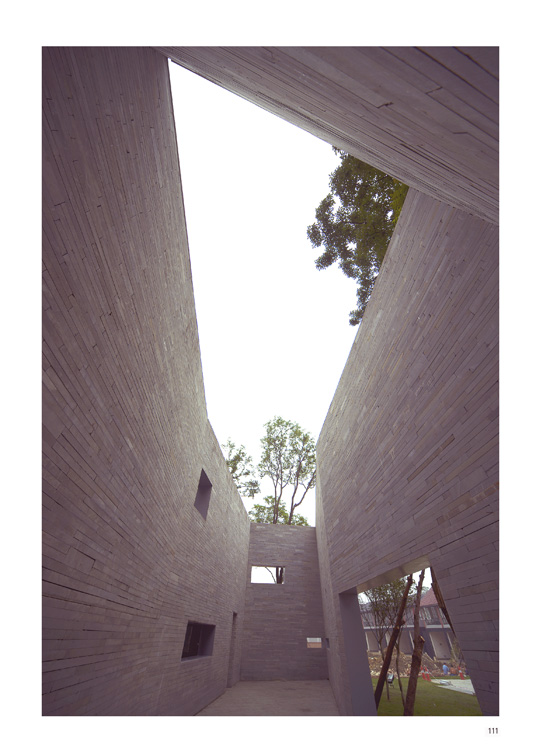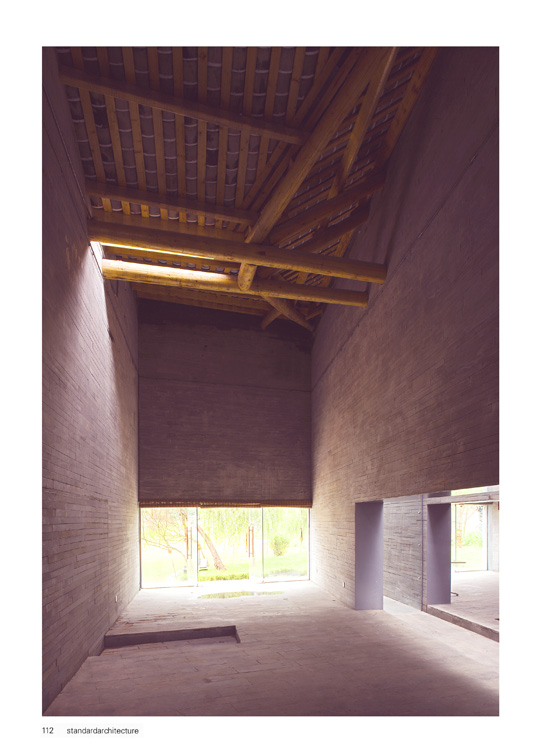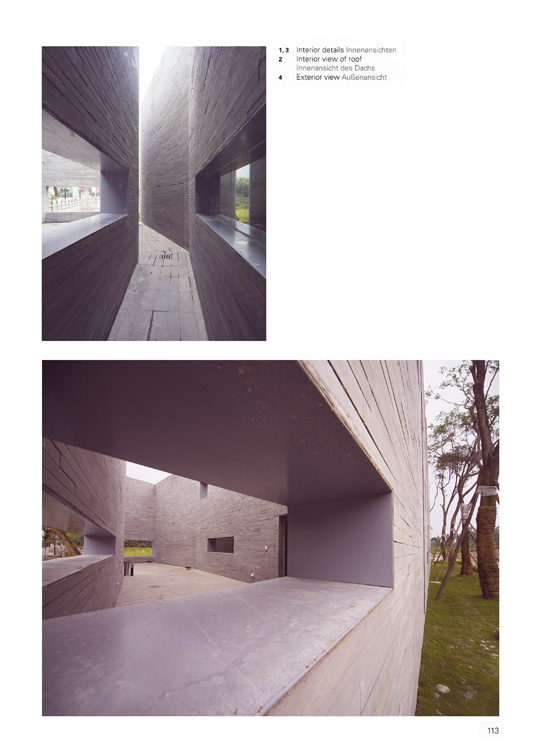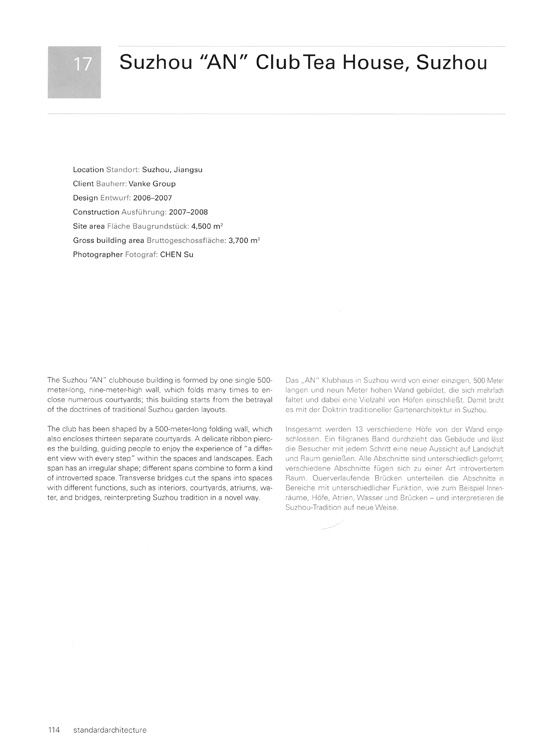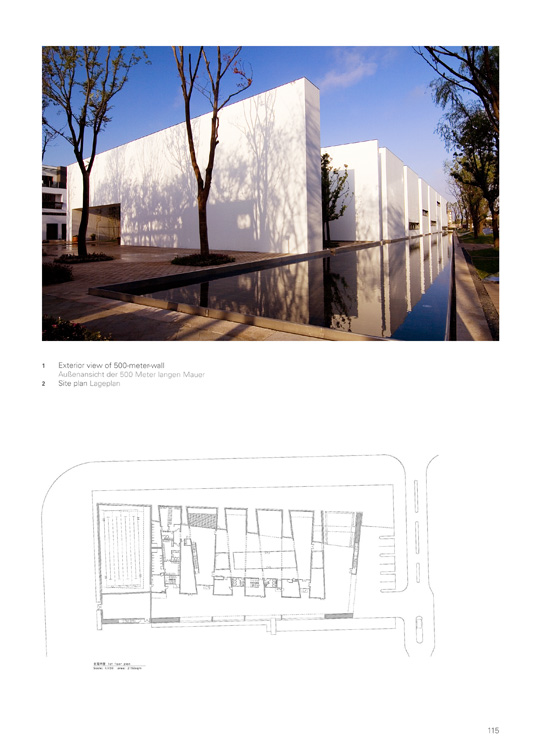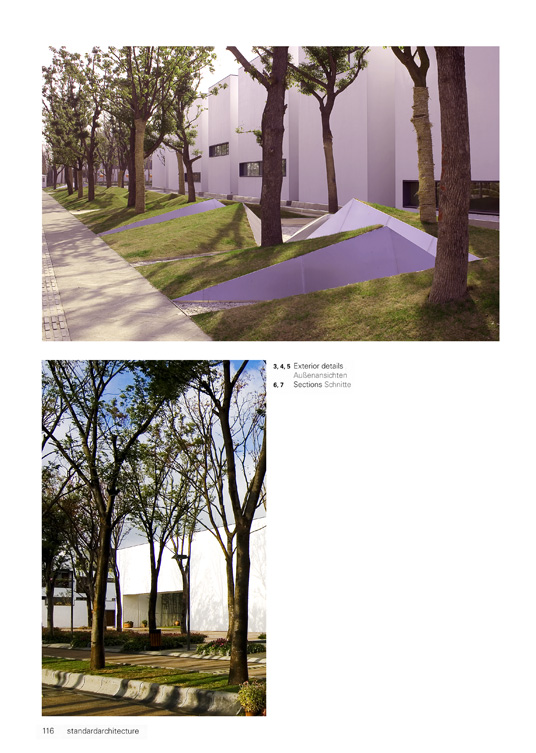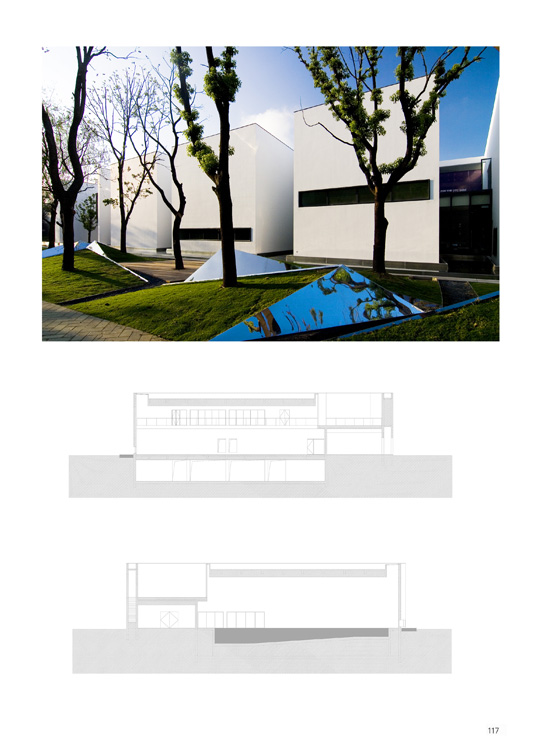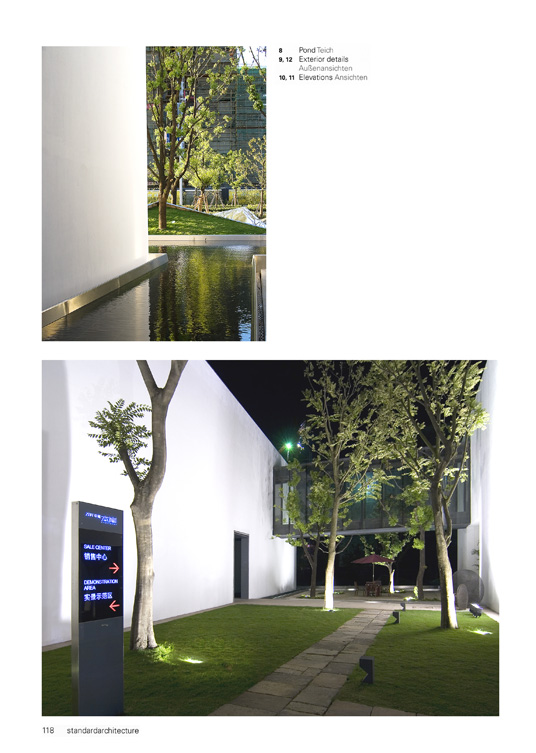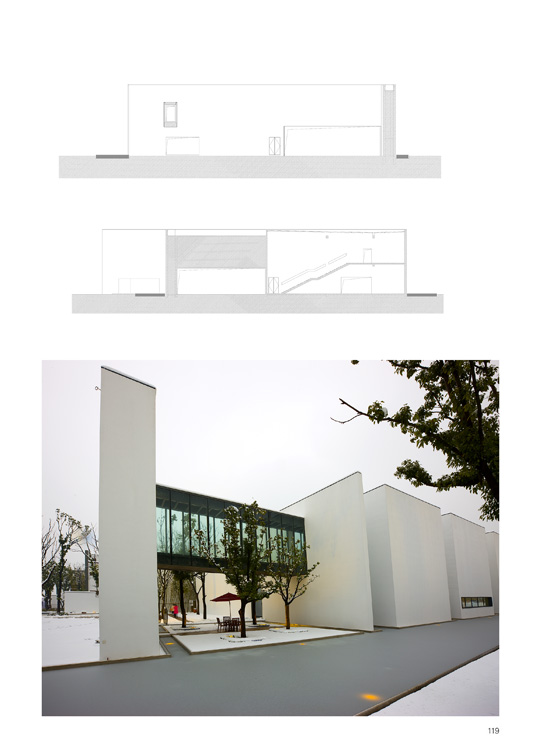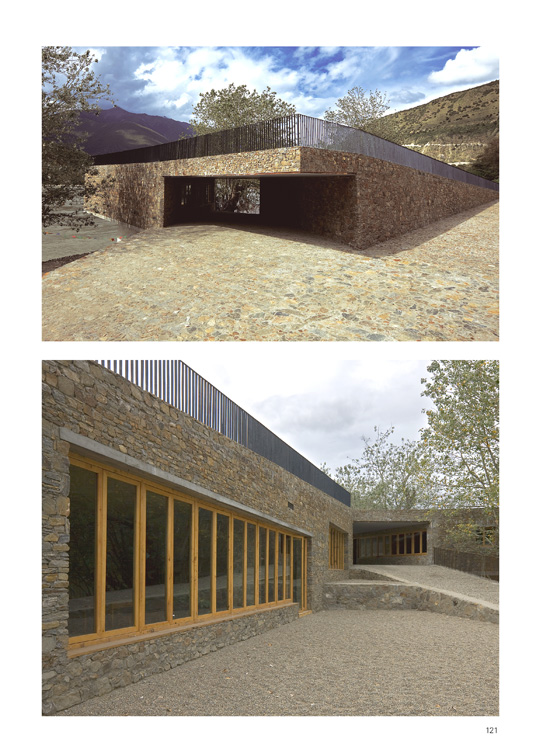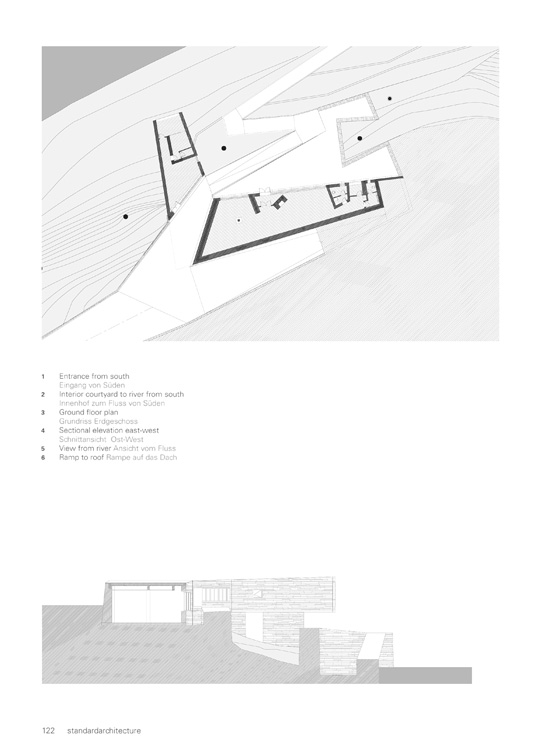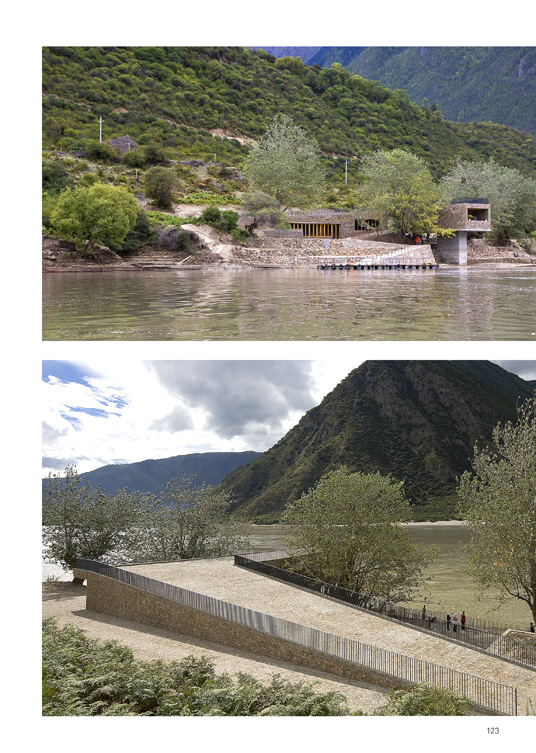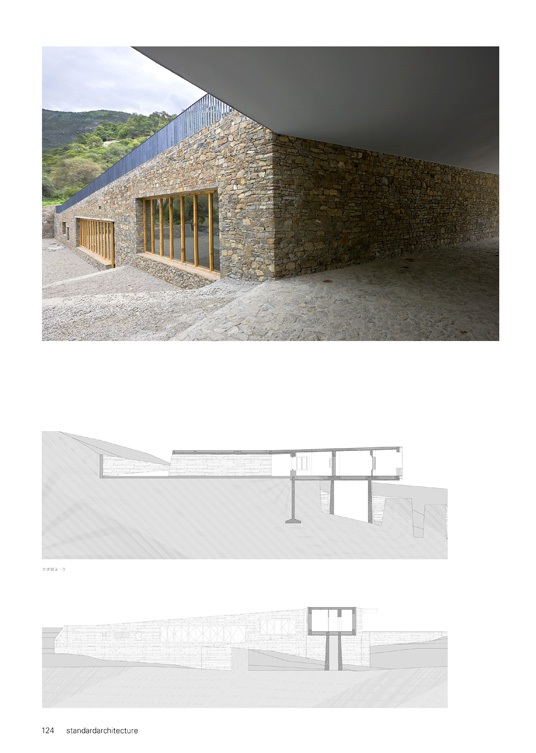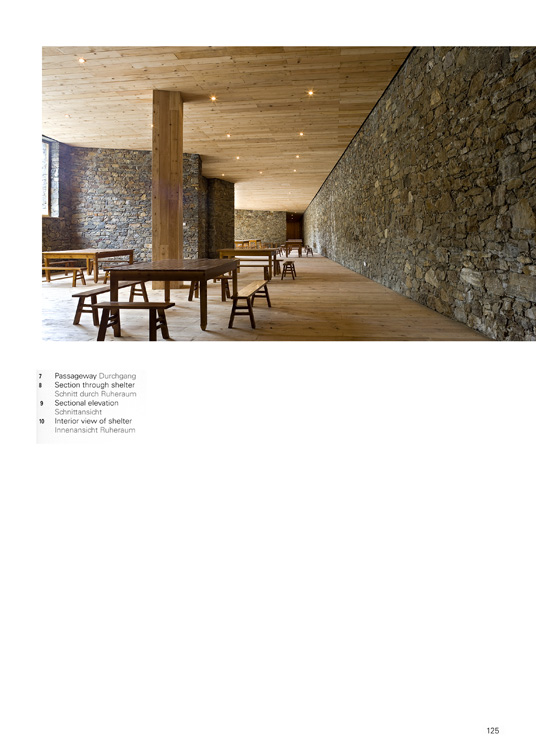 Awards Preise
2008 Young Architects Award of China Architectural Media Award (CAMA)
2006 WA Award (Winner), World Architecture Magazine
Important Projects Wichtige Projekte
2008 Namchabawa Visitor Centre, Tibet
2008 Yaluntzangpu BoatTerminal, Linzhi, Tibet
2008 Suzhou "An" ClubTea House, Suzhou
2008 Namchabawa MulberryTree Contemplation, Linzhi, Tibet
2007 Qingcheng Mountain Stone CourtyardTeahouse, Chengdu
2005 French Chinese Art Centre, Wuhan
2005 Yangshuo Storefronts, Guilin
2003 Beijing Dongbianmen Ming Dynasty Relics Park
Qingcheng Mountain Stone Courtyard, Chengdu
Location: Chengdu, Sichuan
Program: Commercial
Client: Sichuan Jinlian Corporation
Design: 2005-2006
Construction: 2006-2007
Site area: 600 ㎡
Gross building area: 480 ㎡
Photographer: CHEN Su
The "Stone Courtyard" tea house is located close to Daguan Town at the foot of Qingcheng Mountain near Chengdu. With a total area of 500 square meters, the tea house is actually comprised of five separate close-standing courtyard buildings. The first building is an empty front courtyard and the last building is residential, while the other three buildings function as tea courtyards.
Local craftsmen were involved in the design and construction of the wooden roof structure. From the interior, the wooden roof would be completely traditional if the columns near the patio had not been carefully removed.
The stone wall is built exclusively of a type of local slate, which will be covered in green moss in a few years after being exposed to the rainy, humid weather of Chengdu.
Standort: Chengdu, Sichuan
Raumprogramm: Geschäftliche Nutzung
Bauherr: Sichuan Jinlian Corporation
Entwurf: 2005-2006
Ausführung: 2006-2007
Fläche Baugrundstück: 600 m²
Bruttogeschossfläche: 480 m²
Fotograf: CHEN Su
Das Teehaus "Stone Courtyard" liegt in der Nähe von Daguan am Fuße des Berges Qingcheng bei Chengdu. Bei einer Gesamtfläche von 500 Quadratmetern besteht das Teehaus eigentlich aus fünf dicht beieinander stehenden Hofgebäuden. Das erste Gebäude ist dabei ein umbauter Hof, das letzte ein Wohnhof und die dazwi-schen liegenden drei Gebäude fungieren als Teehöfe.
Örtliche Handwerker wurden für den Entwurf und die Konstruktion der hölzernen Dachkonstruktion herangezogen. Das Holzdach über dem lnneren wäre ein ganz traditionelles, wenn nicht die üblichen Hofstützen sorgsam entfernt worden wären.
Die Mauer wände bestehen durchweg aus lokalem Schiefer, der in ein paar Jahren durch das regnerische und feuchte Wetter Cheng-dus von grünem Moos überzogen sein wird.
Suzhou "AN" ClubTea House, Suzhou
Location: Suzhou, Jiangsu
Client: Vanke Group
Design: 2006-2007
Construction: 2007-2008
Site area: 4,500 ㎡
Gross building area: 3,700 ㎡
Photographer: CHEN Su
The Suzhou "AN" clubhouse building is formed by one single 500-meter-long, nine-meter-high wall, which folds many times to enclose numerous courtyards; this building starts from the betrayal of the doctrines of traditional Suzhou garden layouts.
The club has been shaped by a 500-meter-long folding wall, whichalso encloses thirteen separate courtyards. A delicate ribbon pierces the building, guiding people to enjoy the experience of "a different view with every step" within the spaces and landscapes. Each span has an irregular shape; different spans combine to form a kind of introverted space. Transverse bridges cut the spans into spaces with different functions, such as interiors, courtyards, atriums, water, and bridges, reinterpreting Suzhou tradition in a novel way.
Standort: Suzhou, Jiangsu
Bauherr: Vanke Group
Entwurf: 2006-2007
Ausführung: 2007-2008
Fläche Baugrundstück: 4,500 m²
Bruttogeschossfläche: 3,700 m²
Fotograf: CHEN Su
Das "AN" Klubhaus in Suzhou wird von einer einzigen, 500 Meter langen und neun Meter hohen Wand gebildet, die sich mehrfach faltet und dabei eine Vielzahl von Höfen einschließt. Damit bricht es mit der Doktrin traditioneller Gartenarchitektur in Suzhou.
lnsgesamt werden 13 verschiedene Höfe von der Wand einge-schlossen. Ein filigranes Band durchzieht das Gebäude und lässt die Besucher mit jedem Schritt eine neue Aussicht auf Landschaft und Raum genießen. Alle Abschnitte sind unterschiedlich geformt; verschiedene Abschnitte fügen sich zu einer Art introvertiertem Raum. Querverlaufende Brücken unterteilen die Abschnitte in Bereiche mit unterschiedlicher Funktion, wie zum Beispiel lnnenräume, Höfe, Atrien, Wasser und Brücken - und interpretieren die Suzhou-Tradition auf neue Weise.
Yaluntzangpu BoatTerminal, Linzhi, Tibet
Location: Linzhi,Tibet
Program: Public boat terminal
Collaborating design institution: China Academy of Building Research Architectural
Design Institute & TibetYoudao Architecture Associates
Client Bauherr: TibetTourism Co., Ltd
Design: 2007
Construction: 2008
Site area: 1,000 ㎡
Gross building area: 430 ㎡
Photographer: CHEN Su
This small boat terminal is located near the little village of PaiTown in the Linzhi area of Tibet Autonomous Region. As the remotest stop along the Yaluntzangpu River, it allows both local people and travelers from outside to journey by water deep into the valley, taking them to the foot of Namchabawa Snow Mountain.
With a total area of only 430 square meters, the building program is quite basic. It includes a waiting lounge, a ticket office, a few toilets and a room in which people can stay overnight should the weather become too fierce to travel on the river. The building is defined by a series of ramps that rise from the water to wind around several large poplar trees, ending up suspended over the water. From a distance, the building appears to be completely merged with the riverbank topography, becoming part of the greater landscape.
The construction materials used are mainly local. All of the walls and roofs are made of nearby rock. The walls were built by Tibetan masonry builders in their traditional patterns. Window and door frames, ceilings and floors are all made of local timber.
Standort: Linzhi,Tibet
Raumprogramm: Öffentliche Bootsanlegestelle
In Zusammenarbeit mit: China Academy of Building Research Architectural Design Institute & Tibet Youdao Architecture Associates
Bauherr: Tibet Tourism Co., Ltd
Entwurf: 2007
Ausführung: 2008
Fläche Baugrundstück: 1, 000 m²
Bruttogeschossfläche: 430 m²
Fotograf: Chen Su
Von dieser Bootsanlegestelle in der Nähe des kleinen Dorfes Pai im Bezirk Linzhi, Tibet, dem letzten Außenposten entlang des Yaluntzangpu, bringt der Fluss Einheimische und auswärtige Reisende tiefer in das Tal, bis zum Fuß des Namchabawa Snow Mountain.  
Mit einer Gesamtfläche von nur 430 Quadratmetern ist das Raum-programm recht einfach: ein Warteraum, ein Fahrkartenschalter, Toiletten und ein Raum, in dem Passagiere übernachten können, falls das Wetter einmal eine Weiterreise auf dem Fluss verhindern sollte. Das Gebäude wird von Rampen gebildet, die vom Wasser aufsteigen, sich um einige große Pappeln winden und schließlich über das Wasser auskragen. Aus der Entfernung scheint das Ge-bäude vollkommen in der Ufertopografie aufzugehen und fügt sich nahtlos in das Landschaftspanorama ein.  
Es wurden hauptsächlich lokale Baumaterialien verwendet. Alle Wände und Decken bestehen aus lokalem Felsgestein. Die Wände wurden von tibetischen Maurern in traditionellem Verband errich-tet. Fenster-und Türrahmen, Decken und Fußböden bestehen alle-samt aus örtlichem Holz.