THE PHAIDON ATLAS OF 21ST CENTURY WORLD ARCHITECTURE
02 December 2008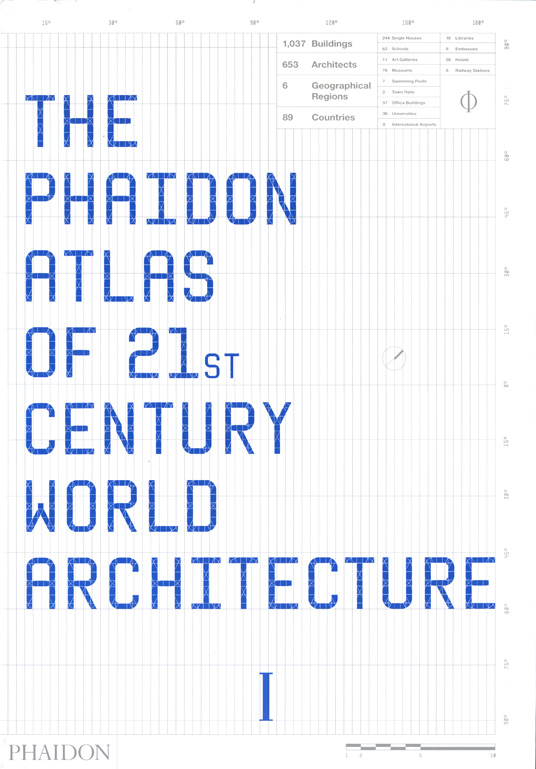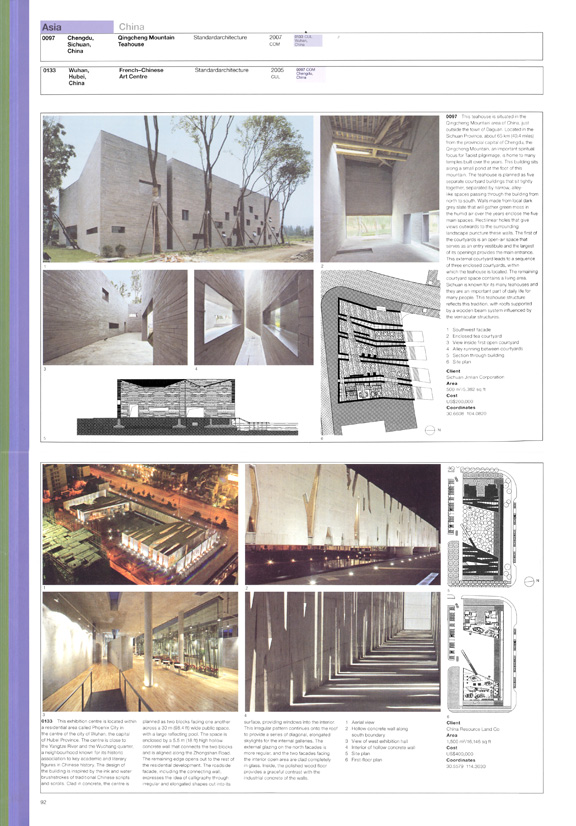 Wuhan CRland French-Chinese Art Centre
This exhibition centre is located within a residential area called Phoenix City in the centre of the city of Wuhan, the capital of Hubei Province. The centre is close to the Yangtze River and the Wuchang quarter, a neighbourhood known for its historic association to key academic and literary figures in Chinese history. The design of the building is inspired by the ink and water brushstrokes of traditional Chinese scripts and scrolls. Clad in concrete, the centre is planned as two blocks facing one another across a 30 m (98.4 ft) wide public space, with a large reflecting pool. The space is enclosed by a 5.5 m (18 ft) high hollow concrete wall that connects the two blocks and is aligned along the Zhongshan Road. The remaining edge opens out to the rest of the residential development. The roadside facade, including the connecting wall, expresses the idea of calligraphy through irregular and elongated shapes cut into its surface, providing windows into the interior. This irregular pattern continues onto the roof to provide a series of diagonal, elongated skylights for the internal galleries. The external glazing on the north facades is more regular, and the two facades facing the interior open area are clad completely in glass. Inside, the polished wood floor provides a graceful contrast with the industrial concrete of the walls.
Qingcheng Mountain Stone Courtyard, Chengdu
This teahouse is situated in the Qingcheng Mountain area of China, just outside the town of Daguan. Located in the Sichuan Province, about 65 km (40.4 miles) from the provincial capital of Chengdu,the Qingcheng Mountain, an important spiritual focus for Taoist pilgrimage, is home to many temples built over the years. This building sils along a small pond at the foot of this mountain. The teahouse is planned as five separate courtyard buildings that sit tightly together, separated by narrow, alley-like spaces passing through the building from north to south. Walls made from local dark grey slate that will gather green moss in the humid air over the years enclose the five main spaces. Rectilinear holes that give views outwards to the surrounding landscape puncture these walls. The first of the courtyards is an open-air space that serves as an entry vestibule and the largest of its openings provides the main entrance. This external courtyard leads to a sequence of three enclosed courtyards, within whicn the teahouse is located. The remaining courtyard space contains a living area. Sichuan is known for its many teahouses and they are an important part of daily life for many people. This teahouse structure reflects this tradition, with roofs supported by a wooden beam system influenced by the vernacular structures.