Standardarchitecture, Beijing, China
01 October 2008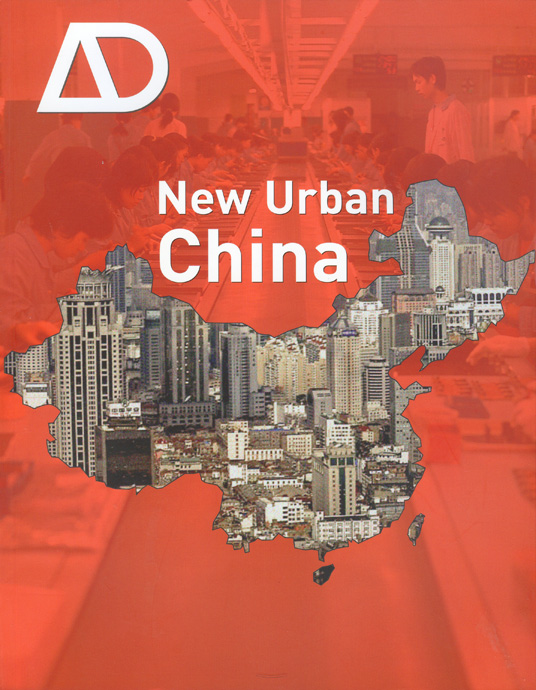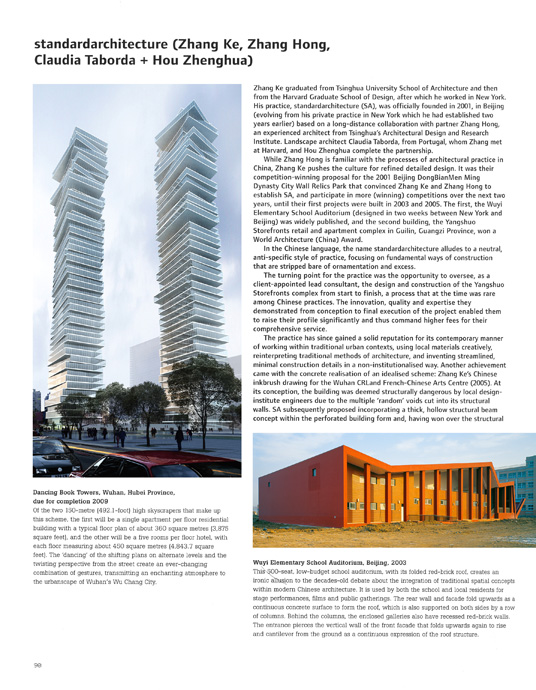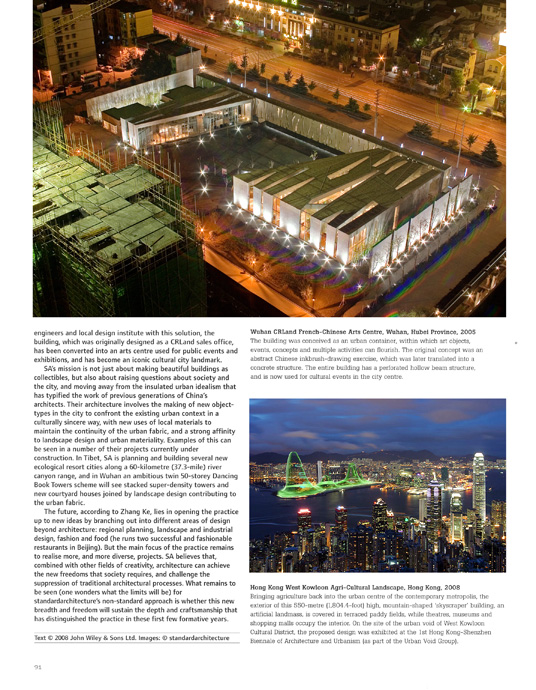 standardarchitecture (Zhang Ke, Zhang Hong, Claudia Taborda + Hou Zhenghua)
Zhang Ke graduated from Tsinghua University School of Architecture and then from the Harvard Graduate School of Design, after which he worked in New York. His practice, standardarchitecture (SA), was officially founded in 2001, in Beijing (evolving from his private practice in New York which he had established two years earlier) based on a long-distance collaboration with partner Zhang Hong, an experienced architect from Tsinghua's Architectural Design and Research Institute. Landscape architect Claudia Taborda, from Portugal, whom Zhang met at Harvard, and Hou Zhenghua complete the partnership.
While Zhang Hong is familiar with the processes of architectural practice in China, Zhang Ke pushes the culture for refined detailed design. It was their competition-winning proposal for the 2001 Beijing DongBianMen Ming Dynasty City Wall Relics Park that convinced Zhang Ke and Zhang Hong to establish SA, and participate in more (winning) competitions over the next two years, until their first projects were built in 2003 and 2005. The first, the Wuyi Elementary School Auditorium (designed in two weeks between New York and Beijing) was widely published, and the second building, the Yangshuo Storefronts retail and apartment complex in Guilin, Guangzi Province, won a World Architecture (China) Award.
In the Chinese language, the name standardarchitecture alludes to a neutral, anti-specific style of practice, focusing on fundamental ways of construction that are stripped bare of ornamentation and excess.
The turning point for the practice was the opportunity to oversee, as a client-appointed lead consultant, the design and construction of the Yangshuo Storefronts complex from start to finish, a process that at the time was rare among Chinese practices. The innovation, quality and expertise they demonstrated from conception to final execution of the project enabled them to raise their profile significantly and thus command higher fees for their comprehensive service.
The practice has since gained a solid reputation for its contemporary manner of working within traditional urban contexts, using local materials creatively, reinterpreting traditional methods of architecture, and inventing streamlined, minimal construction details in a non-institutionalised way. Another achievement came with the concrete realisation of an idealised scheme: Zhang Ke's Chinese inkbrush drawing for the Wuhan CRLand French-Chinese Arts Centre (2005). At its conception, the building was deemed structurally dangerous by local design-institute engineers due to the multiple 'random' voids cut into its structural walls. SA subsequently proposed incorporating a thick, hollow structural beam concept within the perforated building form and, having won over the structural engineers and local design institute with this solution, the building, which was originally designed as a CRLand sales office, has been converted into an arts centre used for public events and exhibitions, and has become an iconic cultural city landmark.
SA's mission is not just about making beautiful buildings as collectibles, but also about raising questions about society and the city, and moving away from the insulated urban idealism that has typified the work of previous generations of China's architects. Their architecture involves the making of new object-types in the city to confront the existing urban context in a culturally sincere way, with new uses of local materials to maintain the continuity of the urban fabric, and a strong affinity to landscape design and urban materiality. Examples of this can be seen in a number of their projects currently under construction. In Tibet, SA is planning and building several new ecological resort cities along a 60-kilometre (37.3-mile) river canyon range, and in Wuhan an ambitious twin 50-storey Dancing Book Towers scheme will see stacked super-density towers and new courtyard houses joined by landscape design contributing to the urban fabric.
The future, according to Zhang Ke, lies in opening the practice up to new ideas by branching out into different areas of design beyond architecture: regional planning, landscape and industrial design, fashion and food (he runs two successful and fashionable restaurants in Beijing). But the main focus of the practice remains to realise more, and more diverse, projects. SA believes that, combined with other fields of creativity, architecture can achieve the new freedoms that society requires, and challenge the suppression of traditional architectural processes. What remains to be seen (one wonders what the limits will be) for standardarchitecture's non-standard approach is whether this new breadth and freedom will sustain the depth and craftsmanship that has distinguished the practice in these first few formative years.
Dancing Book rowers, Wuhan, Hubei Province, due for completion 2009
Of the two 150-metre (492.1-foot) high skyscrapers that make up this scheme, the first will be a single apartment per floor residential building with a typical floor plan of about 360 square metres (3,875 square feet), and the other will be a five rooms per floor hotel, with each floor measuring about 450 square metres (4,843.7 square feet). The 'dancing' of the shifting plans on alternate levels and the twisting perspective from the street create an ever-changing combination of gestures, transmitting an enchanting atmosphere to the urbanscape of Wuhan's Wu Chang City.
Wuyi Elementary School Auditorium, Beijing, 2003
This 500-seat, low-budget school auditorium, with its folded red-brick roof, creates an ironic allusion to the decades-old debate about the integration of traditional spatial concepts within modern Chinese architecture, It is used by both the school and local residents for stage performances, films and public gatherings. The rear wall and facade fold upwards as a continuous concrete surface to form the roof, which is also supported on both sides by a row of columns. Behind the columns, the enclosed galleries also have recessed red-brick walls. The entrance pierces the vertical wall of the front facade that folds upwards again to rise and cantilever from the ground as a continuous expression of the roof structure.
Wuhan CRLand French-Chinese Arts Centre, Wuhan, Hubei Province, 2005
The building was conceived as an urban container, within which art objects, events, concepts and multiple activities can flourish. The original concept was an abstract Chinese inkbrush-drawing exercise, which was later translated into a concrete structure. The entire building has a perforated hollow beam structure, and is now used for cultural events in the city centre.
Hong Kong West Kowloon Agri-Cultural Landscape, Hong Kong, 2008
Bringing agriculture back into the urban centre of the contemporary metropolis, the exterior of this 550-metre (l.804.4-foot) high, mountain-shaped 'skyscraper' building, an artificial landmass, is covered in terraced paddy fields, while theatres, museums and shopping malls occupy the interior. On the site of the urban void of West Kowloon Cultural District, the proposed design was exhibited at the lst Hong Kong-Shenzhen Biennale of Architecture and Urbanism (as part of the Urban Void Group).