Standardarchitecture, Beijing, China
01 June 2008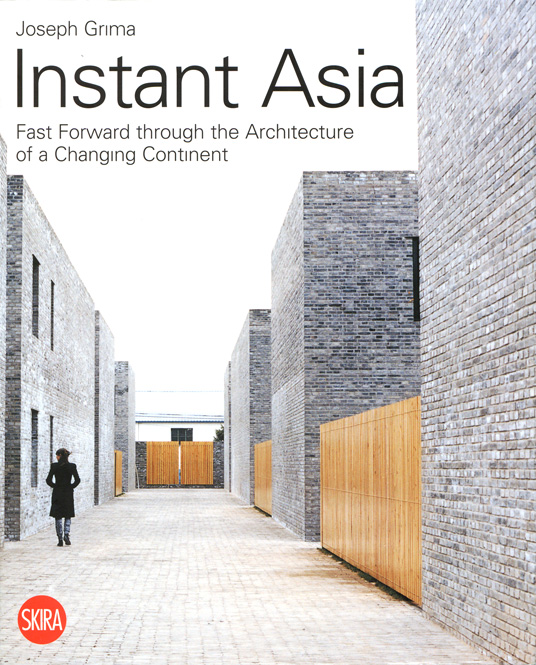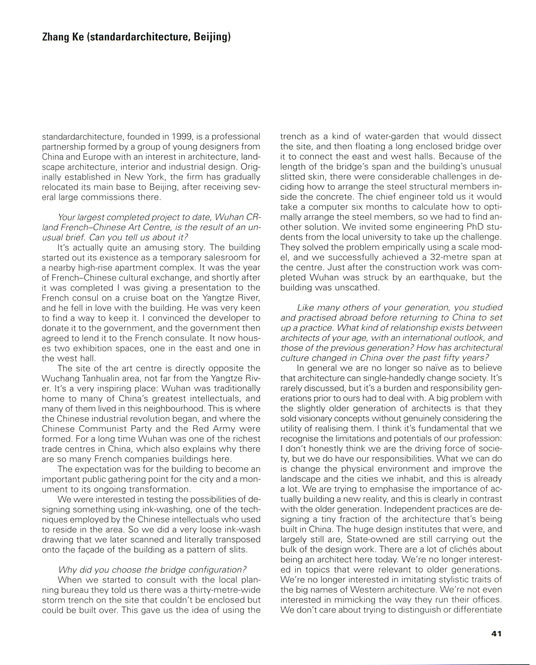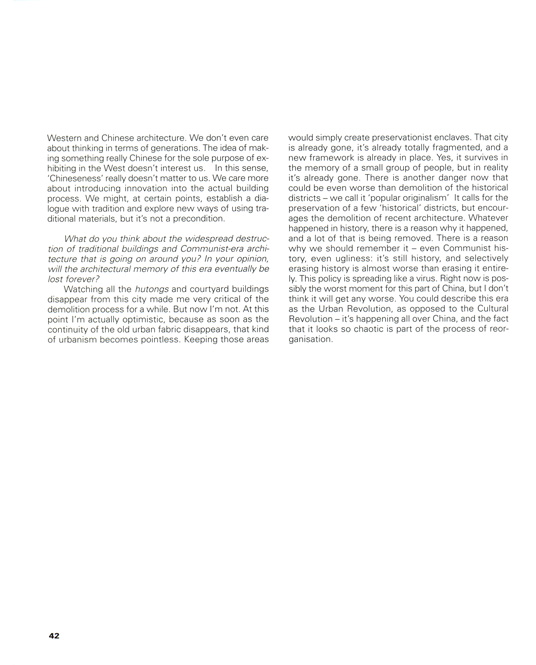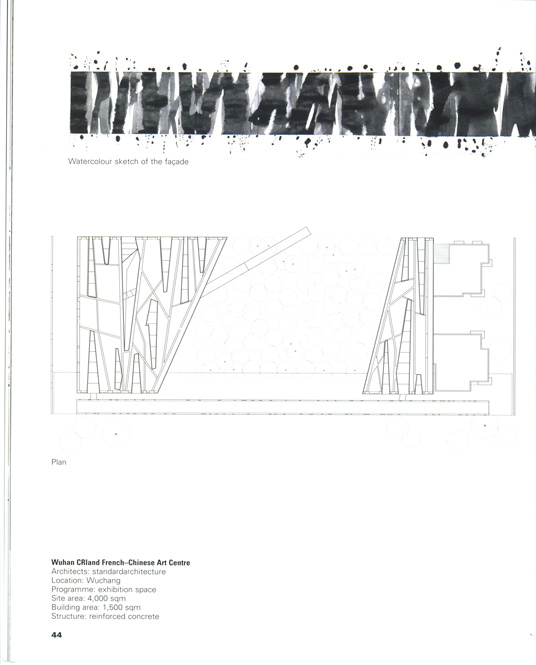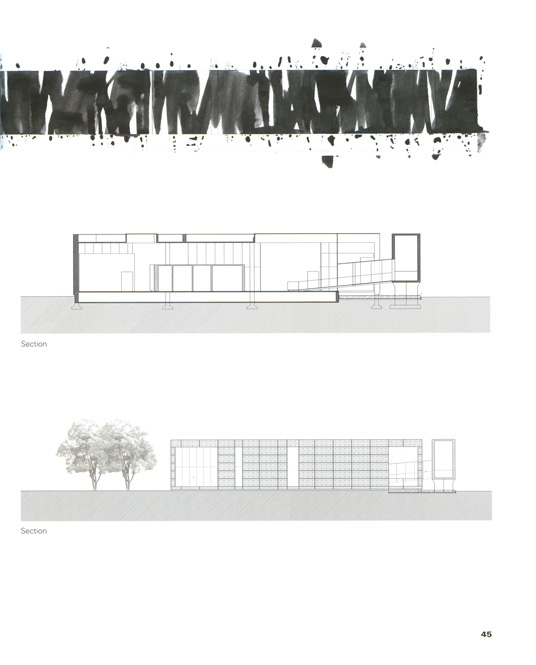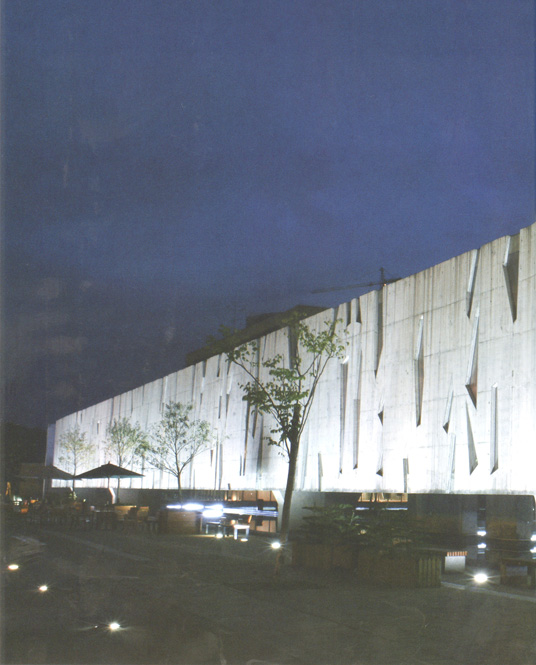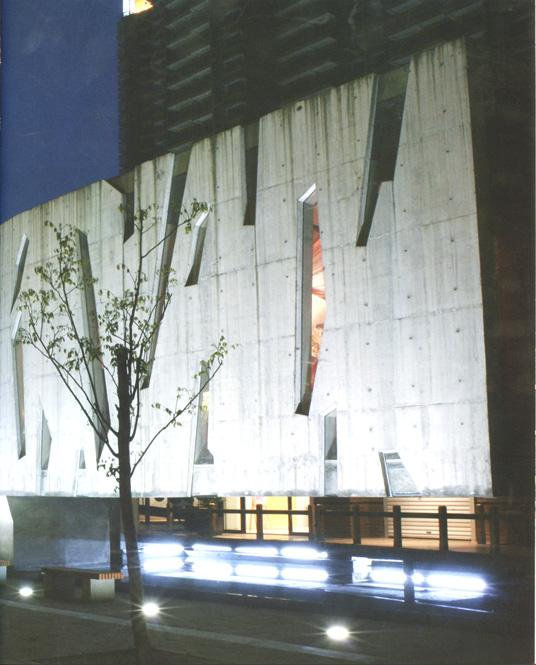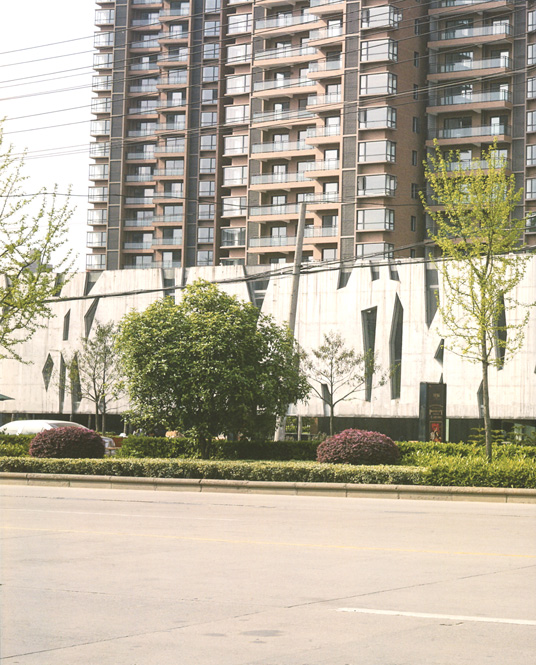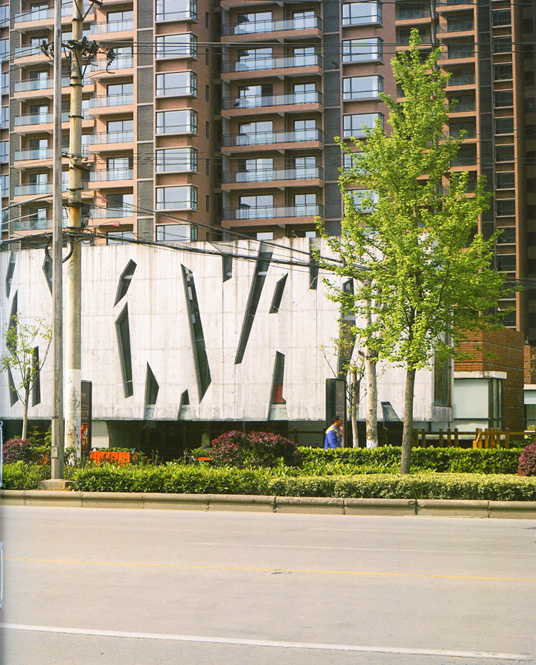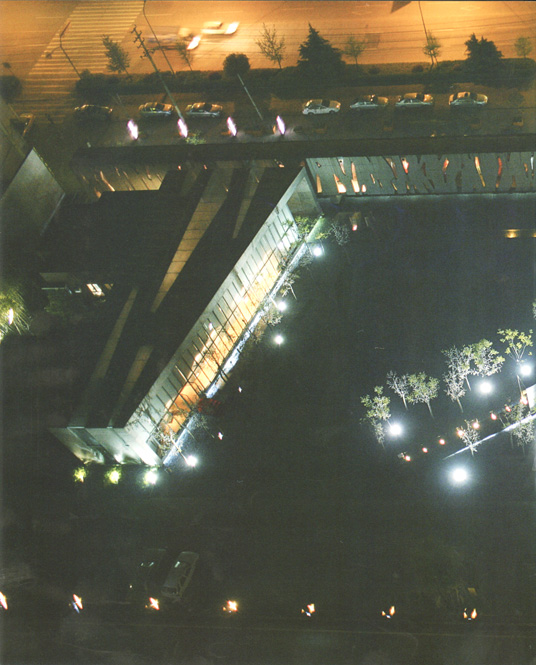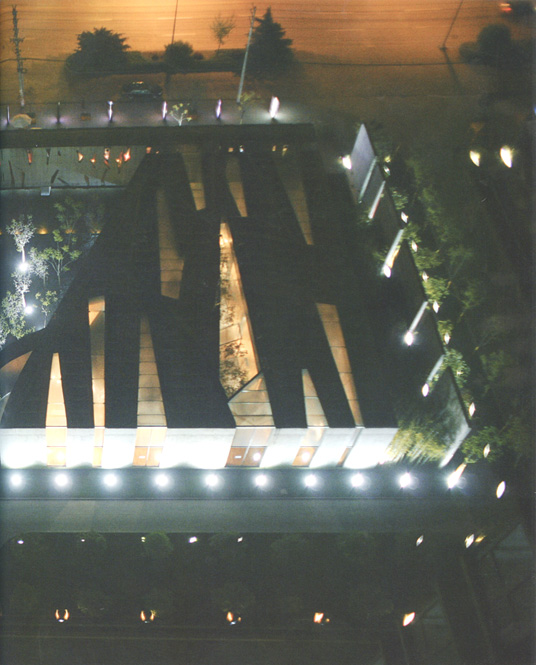 Zhang ke (standardarchiteceture, Beijing)
standardarchitecture, founded in 1999, is a professional partnership formed by a group of young designers from China and Europe with an interest in architecture, landscape architecture, interior and industrial design. Originally established in New York, the firm has gradually relocated its main base to Beijing, after receiving several large commissions there.
Your largest completed project to date, Wuhan CR-land French-Chinese Art Centre, is the result of an unusual brief. Can you tell us about it?
It's actually quite an amusing story. The buildingstarted out its existence as a temporary salesroom for a nearby high-rise apartment complex. It was the yearof French-Chinese cultural exchange, and shortly after it was completed I was giving a presentation to the French consul on a cruise boat on the Yangtze River, and he fell in love with the building. He was very keen to find a way to keep it. I convinced the developer to donate it to the government, and the government then agreed to lend it to the French consulate. It now houses two exhibition spaces, one in the east and one in the west hall.
The site of the art centre is directly opposite the uchang Tanhualin area, not far from the Yangtze River. It's a very inspiring place: Wuhan was traditionally home to many of China's greatest intellectuals, and many of them lived in this neighbourhood. This is where the Chinese industrial revolution began, and where the Chinese Communist Party and the Red Army were formed. For a long time Wuhan was one of the richest trade centres in China, which also explains why there are so many French companies buildings here.
The expectation was for the building to become an important public gathering point for the city and a monument to its ongoing transformation.
We were interested in testing the possibilities of designing something using ink-washing, one of the techniques employed by the Chinese intellectuals who used to reside in the area. So we did a very loose ink-wash drawing that we later scanned and literally transposed onto the facade of the building as a pattern of slits.
Why did you choose the bridge configuration?
When we started to consult with the local planning bureau they told us there was a thirty-metre-wide storm trench on the site that couldn't be enclosed but could be built over. This gave us the idea of using the trench as a kind of water-garden that would dissect the site, and then floating a long enclosed bridge over it to connect the east and west halls. Because of the length of the bridge's span and the building's unusual slitted skin, there were considerable challenges in deciding how to arrange the steel structural members in side the concrete. The chief engineer told us it would take a computer six months to calculate how to optimally arrange the steel members, so we had to find another solution. We invited some engineering PhD students from the local university to take up the challenge.They solved the problem empirically using a scale model, and we successfully achieved a 32-metre span at the centre. Just after the construction work was completed Wuhan was struck by an earthquake, but the building was unscathed.
Like many others of your generation, you studied and practised abroad before returning to China to set up a practice. What kind of relationship exists between architects of your age, with an international outlook, and those of the previous generation? How has architectural culture changed in China over the past fifty years?
In general we are no longer so naive as to believe that architecture can single-handedly change society. It's rarely discussed, but it's a burden and responsibility generations prior to ours had to deal with. A big problem with the slightly older generation of architects is that they sold visionary concepts without genuinely considering the utility of realising them. I think it's fundamental that we recognise the limitations and potentials of our profession: I don't honestly think we are the driving force of society, but we do have our responsibilities. What we can do is change the physical environment and improve the landscape and the cities we inhabit, and this is already a lot. We are trying to emphasise the importance of actually building a new reality, and this is clearly in contrast with the older generation. Independent practices are designing a tiny fraction of the architecture that's being built in China. The huge design institutes that were, and largely still are, State-owned are still carrying out the bulk of the design work. There are a lot of cliches about being an architect here today. We're no longer interested in topics that were relevant to older generations. We're no longer interested in imitating stylistic traits of the big names of Western architecture. We're not even interested in mimicking the way they run their offices. We don't care about trying to distinguish or differentiate Western and Chinese architecture. We don't even care about thinking in terms of generations. The idea of making something really Chinese for the sole purpose of exhibiting in the West doesn't interest us… In this sense, 'Chineseness' really doesn't matter to us. We care more about introducing innovation into the actual building process. We might, at certain points, establish a dialogue with tradition and explore new ways of using traditional materials, but its not a precondition.
What do you think about the widespread destruct tion of traditional buildings and Communist-era architecture that is going on around you? In your opinion, will the architectural memory of this era eventually be lost forever?
Watching all the hutongs and courtyard buildings disappear from this city made me very critical of the demolition process for a while. But now I'm not. At this point I'm actually optimistic, because as soon as the continuity of the old urban fabric disappears, that kind of urbanism becomes pointless. Keeping those areas would simply create preservationist enclaves. That city is already gone, it's already totally fragmented, and a new framework is already in place. Yes, it survives in the memory of a small group of people, but in reality it's already gone. There is another danger now that could be even worse than demolition of the historical districts - we call it 'popular originalism' It calls for the preservation of a few 'historical' districts, but encourages the demolition of recent architecture. Whatever happened in history, there is a reason why it happened, and a lot of that is being removed. There is a reason why we should remember it - even Communist history, even ugliness: it's still history, and selectivelyerasing history is almost worse than erasing it entirely. This policy is spreading like a virus. Right now is possibly the worst moment for this part of China, but I don't think it will get any worse. You could describe this era as the Urban Revolution, as opposed to the Cultural Revolution - it's happening all over China, and the fact that it looks so chaotic is part of the process of reorganisation.