From the high-rise to the hutong
01 March 2008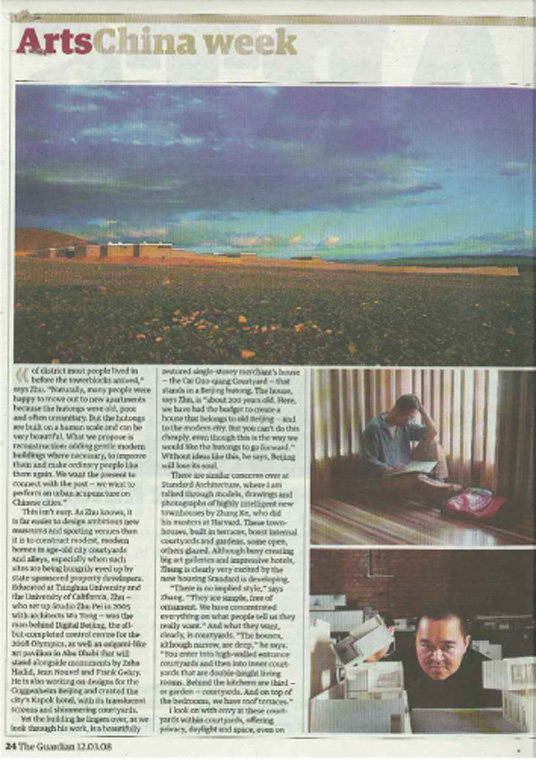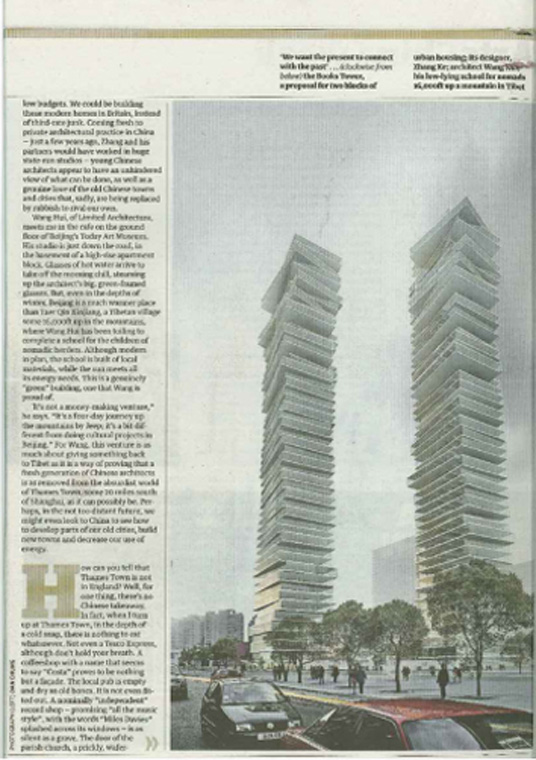 Just a few years ago, Chinese architects would have worked for the state. Now a whole new generation are striking out for themselves. What are they building? 
Jonathan Glancey reports
Wednesday March 12, 2008
The Guardian
Say the words "new Chinese architecture" and what springs to mind? Ambitious skyscrapers, soaring apartment blocks, Olympian designs in central Beijing by celebrated international architects, and the unbridled kitsch of suburban estates like Thames Town, a bizarre mock-English development near Shanghai. 
But even while great - and likable - tracts of old Chinese cities continue to come tumbling down in the names of change and modernisation, the country's up-and-coming practices are developing intelligent new forms of specifically Chinese design, even if they do draw from the west from time to time. Whatever other glamorous projects these talented young architects are beginning to scoop up, it is mostly housing for ordinary people that concerns them - that, and a desire to change the direction of Chinese architectural development, all too often a soulless juggernaut ripping the hearts from old towns and cities. 
Zhu Pei is one architect at the forefront of this new wave. In his busy Beijing studio, Zhu shows me ideas for the redevelopment of one of the city's "hutongs". Made up of tangling alleys brimming with workaday life, Beijing's hutongs are fast disappearing. "This is the type of district most people lived in before the towerblocks arrived," says Zhu. "Naturally, many people were happy to move out to new apartments because the hutongs were old, poor and often unsanitary. But the hutongs are built on a human scale and can be very beautiful. What we propose is reconstruction: adding gentle modern buildings where necessary, to improve them and make ordinary people like them again. We want the present to connect with the past - we want to perform an urban acupuncture on Chinese cities." 
This isn't easy. As Zhu knows, it is far easier to design ambitious new museums and sporting venues than it is to construct modest, modern homes in age-old city courtyards and alleys, especially when such sites are being hungrily eyed up by state-sponsored property developers. Educated at Tsinghua University and the University of California, Zhu - who set up Studio Zhu Pei in 2005 with architects Wu Tong - was the man behind Digital Beijing, the all-but-completed control centre for the 2008 Olympics, as well an origami-like art pavilion in Abu Dhabi that will stand alongside monuments by Zaha Hadid, Jean Nouvel and Frank Gehry. He is also working on designs for the Guggenheim Beijing and created the city's Kapok hotel, with its translucent screens and shimmering courtyards. 
Yet the building he lingers over, as we look through his work, is a beautifully restored single-storey merchant's house - the Cai Guo-qiang Courtyard - that stands in a Beijing hutong. The house, says Zhu, is "about 200 years old. Here, we have had the budget to create a house that belongs to old Beijing - and to the modern city. But you can't do this cheaply, even though this is the way we would like the hutongs to go forward." Without ideas like this, he says, Beijing will lose its soul. 
There are similar concerns over at Standard Architecture, where I am talked through models, drawings and photographs of highly intelligent new townhouses by Zhang Ke, who did his masters at Harvard. These townhouses, built in terraces, boast internal courtyards and gardens, some open, others glazed. Although busy creating big art galleries and impressive hotels, Zhang is clearly very excited by the new housing Standard is developing. 
"There is no implied style," says Zhang. "They are simple, free of ornament. We have concentrated everything on what people tell us they really want." And what they want, clearly, is courtyards. "The houses, although narrow, are deep," he says. "You enter into high-walled entrance courtyards and then into inner courtyards that are double-height living rooms. Behind the kitchens are third - or garden - courtyards. And on top of the bedrooms, we have roof terraces." 
I look on with envy at these courtyards within courtyards, offering privacy, daylight and space, even on low budgets. We could be building these modern homes in Britain, instead of third-rate junk. Coming fresh to private architectural practice in China - just a few years ago, Zhang and his partners would have worked in huge state-run studios - young Chinese architects appear to have an unhindered view of what can be done, as well as a genuine love of the old Chinese towns and cities that, sadly, are being replaced by rubbish to rival our own. 
Wang Hui, of Limited Architecture, meets me in the cafe on the ground floor of Beijing's Today Art Museum. His studio is just down the road, in the basement of a high-rise apartment block. Glasses of hot water arrive to take off the morning chill, steaming up the architect's big. green-framed glasses. But, even in the depths of winter, Beijing is a much warmer place than Taer Qin Xinjiang, a Tibetan village some 16,000ft up in the mountains, where Wang Hui has been toiling to complete a school for the children of nomadic herders. Although modern in plan, the school is built of local materials, while the sun meets all its energy needs. This is a genuinely "green" building, one that Wang is proud of. 
'It's not a money-making venture," he says. "It's a four-day journey up the mountains by Jeep; it's a bit different from doing cultural projects in Beijing." For Wang, this venture is as much about giving something back to Tibet as it is a way of proving that a fresh generation of Chinese architects is as removed from the absurdist world of Thames Town, some 20 miles south of Shanghai, as it can possibly be. Perhaps, in the not too distant future, we might even look to China to see how to develop parts of our old cities, build new towns and decrease our use of energy. 
How can you tell that Thames Town is not in England? Well, for one thing, there's no Chinese takeaway. In fact, when I turn up at Thames Town, in the depth of a cold snap, there is nothing to eat whatsoever. Not even a Tesco Express, although don't hold your breath. A coffeeshop with a name that seems to say "Costa" proves to be nothing but a fa?ade. The local pub is empty and dry as old bones. It is not even fitted out. A nominally "independent" record shop - promising "all the music style", with the words "Miles Davies" splashed across its windows - is as silent as a grave. The door of the parish church, a prickly, wafer-thin version of an English gothic revival parish model, is locked and bolted. Thames Town's official website describes it thus: "Embraced by lush greenery and beautiful scenery, the catholic [sic] church is an exclusive living space to begin a life of happiness and bliss." 
Thames Town is a Chinese fantasy, a make-believe English town designed, as far as I can see, for business-class families who want either to play out a Hollywood version of life in an English town, or else rent out faux historic English homes to those for whom a comic-book, or TV-influenced, western lifestyle is the way to go. In a narrow Thames Town shopping street, a young bride and groom strike poses for a photographer. This is a daily occurrence in Thames Town. Couples, married in humdrum civic offices in Shanghai, send family and friends pictures of themselves Four Weddings and a Funeral-style, shot in Thames Town. 
The odd thing is that Thames Town is so quiet. Being here is like walking onto an empty film set, or waking up to find yourself one of the few people left in the world. Just where are the 8,000 people who are meant to live here? Perhaps they commute en masse to Shanghai. I ask a beaming security guard huddled in a scarlet greatcoat. He says that a third of the houses in Thames Town are lived in, while the rest are for rent. So are they empty? He smiles. OK, when does the pub open? He smiles again. We walk on, hungry and thirsty, as CCTV cameras, mounted on both sides of every street, follow us - a sudden reminder of England. 
I walk into what is meant to be, I think, a Belgravia-style townhouse. Inside, all is bleak concrete and exposed plumbing, with a narrow stair leading up to cramped, low-ceilinged flats. Classical proportions are clearly not the order of the day. Through low-set windows, I peer out at a townscape dotted with cartoon-like versions of red 1930s telephone kiosks and what looks to be a Scottish baronial-style provincial bank. (It turns out to be more flats.) Quite where the Thames slips into this town planning equation escapes me, although there is a canal, if not a river, by the empty pub, complete with frustrating dead-end walkways - a metaphor of sorts, perhaps, for this utterly un-English new town. 
Shanghai was an intensely cosmopolitan city before the communist era. Today, in the age of officially controlled ultra-capitalism, it is no stranger to fey and fanciful English-style architecture. A 30-second walk along Foochow Road, just behind the Bund (the city's famous Edwardian baroque and art deco riverfront promenade) lies the Macgregor House. Dating from 1937, this mock tudor (or "joke oak") cottage was once HQ to Caldbeck Macgregor, purveyors of fine wines and spirits. It survives as a teasing riposte to the 21st-century architectural bombast of the high-rise Pudong district, across the Huangpu river. In Shanghai's Hongqiao district, you can find Victor Sassoon's house Eve, a grand mock tudor pile dating from 1933; and I have also been to Holly Heath, an endangered "joke oak" suburb that might as well be in Surrey. 
Thames Town, though, is a joke of a different nature. Commissioned as part of a new town programme initiated by Huang Ju, former secretary of the Shanghai communist party, it was designed by the international engineering practice WS Atkins, along with eight other themed foreign towns on the fringe of Shanghai. On the journey back to the city, I spotted a windmill in what must have been Dutch Town; I hope you can forgive me for not bothering with Swedish Town, Spanish Town, Italian Town, US Town, Australia-New Zealand Town, German Town, complete with a Volkswagen factory and architecture by one Albert Speer Jr. There was even a Chinese Town. Somewhere not far over the horizon, though, a new school of Chinese architecture is emerging - one that is seeking to connect genuine traditions with the needs and desires of the future 
The work of young Chinese architects and designers features in China Design Now, at the V&A, London, from Saturday to July 13. Details: 020-7942 2000