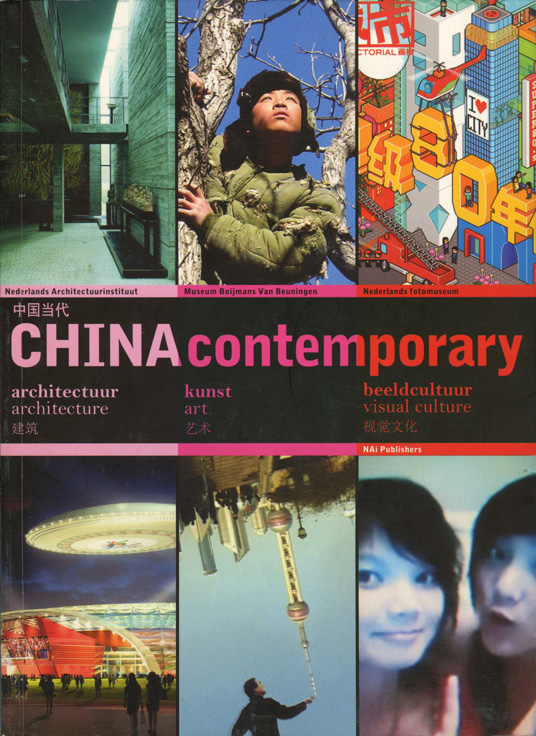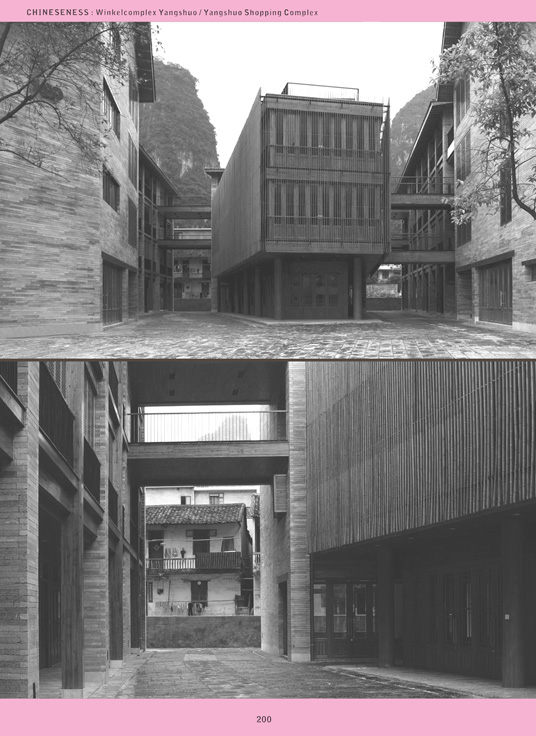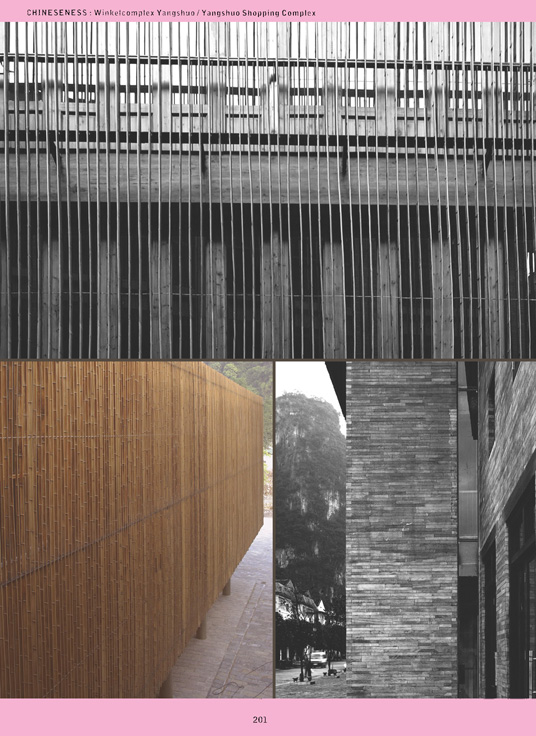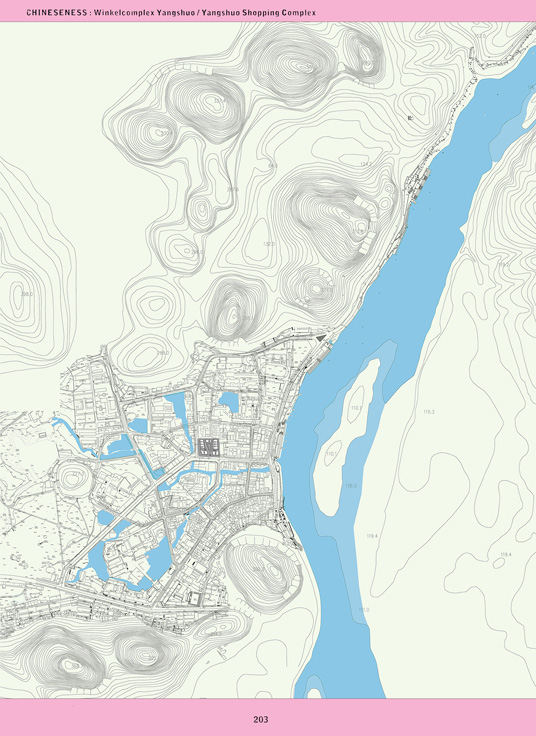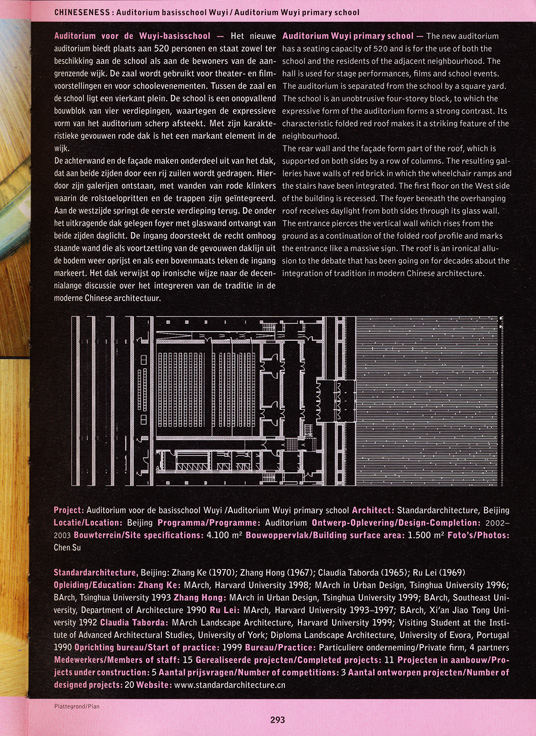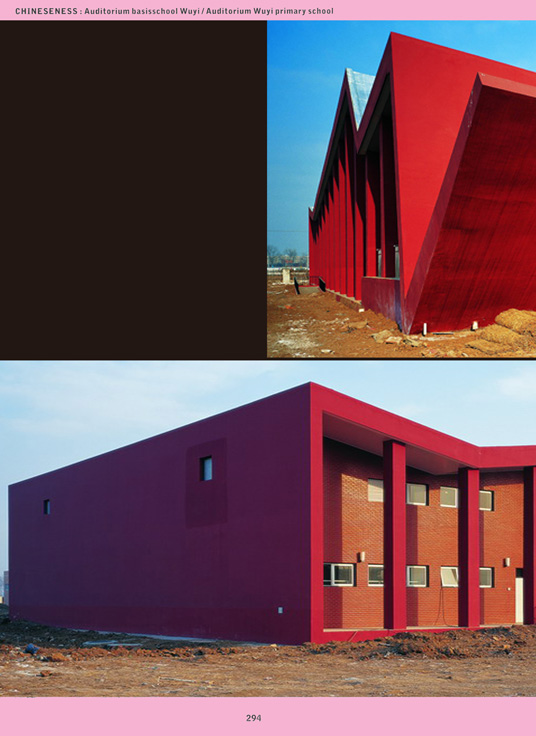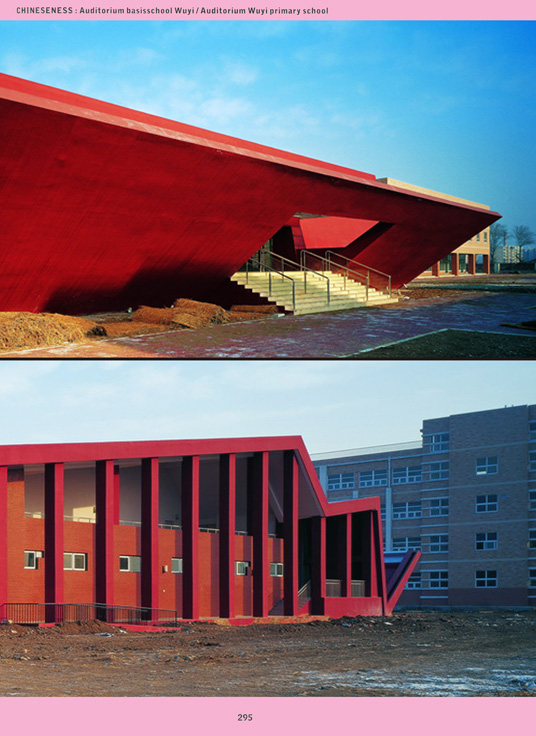 Winkelcomplex Yangshuo
Het complex met winkels op de begane grond en woningen daarboven ligt in het centrum van de kleine toeristenstad Yangshuo. De stad wordt in her oosten begrensd door de Lijiang-rivier, aan de drie overage zijden door bijzondere karstbergen. Aan het ontwerp is eerst een studie naar lokaal materiaalgebruik en bouwtechnieken voorafgegaan. Aangezien de beschikbare locatie te groot bleek voor één gebouw, besloot Standardarchitecture het programma in een aantal kleinere gebouwen met daartussen smalle straten onder te brengen. In de lay-out is rekening gehouden met de locale traditie om vanuit de belangrijkste stegen zicht te houden op de omliggende bergen, in dit geval op de Groene Lotus-berg en de Drakenhoofd-berg. In dit project heft Standardarchitecture voornamelijk geëxperimenteerd met de constructiemoge-lijkheden van locale materialen. Hiervoor zijn vier materialen gebruikt: een blauwgroene steen, larikshout, kleine zwarte dakpannen en bamboerepen. De experimenteerdrift is het duidelijkst zichtbaar bij de centrale hal. Het gebouw heft met een scherm van bamboerepen een tweede huid gekregen; de repen staan op enige afstand van elkaar haaks op de muur en geven een zeer bijzonder visueel effect aan de façade.
Yangshuo Shopping Complex
The complex with shops on the ground floor and apartments above is situated in the centre of the small tourist city of Yangshuo. The city is bordered on the East by the Lijiang River and on the other three sides by unusual Karst peaks. The design was preceded by a study of local use of materials and building techniques. Since the available location proved to be too large for a single building, standardarchitecture decided to incorporate the programme in a number of smaller buildings separated by narrow streets. The layout takes into account the local tradition of maintaining a view of the surrounding peaks – in this case the Green Lotus Mountain and the Dragon's Head Mountain – from the major alleys. Standardarchitecture mainly experimented in this project with the constructional possibilities of local materials. They used four materials for this purpose: a blue-green stone, larch wood, small black roofing tiles, and bamboo strips. The urge to experiment can be seen most clearly in the central hall. The building has been given a second skin with a screen of bamboo strips; they are positioned at a distance from one another and at right angles to the wall to produce a very unusual visual effect on the façade.
Project: Winkelcomplex Yangshuo / Yangshuo Shopping Complex
Architect: standardarchitecture
Locatie / Location: Yangshuo
Programma / Programme: Winkels en woningen / Shops and apartments
Ontwerp-Oplevering / Design-Completion: 2003-2005
Bouwterrein / Site specifications: 2.400 m²
Bouwoppervlak / Building surface area: 6.300 m²
Foto's / Photos: Chen Su
Auditorium voor de Wuyi-basisschool
Het nieuwe auditorium bidet plaats aan 520 personen en staat zowel ter beschikking aan de school als aan de bewoners van de aan-voorstellingen en voor schoolevenementen. Tussen de zaal en de school ligt een vierkant plein. De school is een onopvallend bouwblok van vier verdiepingen, waartegen de expressieve vorm van het auditorium scherp afsteekt. Met zijn karakteristieke gevouwen rode dak is het een markant element in de wijk.
 De achterwand en de façade maken onderdeel uit van het dak, dat aan beide door een rij zuilen wordt gedragen. Hierdoor zijn galerijen ontstaan, met wanden van rode klinkers waarin de rolstoelopritten en de trappen zijn geïntegreerd. Aan de westzijde springt de eerste verdieping terug. De onder het uitkragende dak gelegen foyer met glaswand ontvangt van beide zijden daglicht. De ingang doorsteekt de recht omhoog staande wand die als voortzetting van de gevouwen daklijn uit de bodem weer oprijst en al seen bovenmaats teken de ingang markeert. Het dak verwijst op ironische wijze naar de decennialange discussie over het integreren in de moderne Chinese architectuur.
Auditorium Wuyi primary school 

The new auditorium has a seating capacity of 520 and is for the use of both the school and the residents of the adjacent neighborhood. The hall is used for stage performances, films and school events. The auditorium is separated from the school by a square yard. The school is an unobtrusive four-storey block, to which the expressive form of the auditorium forms a strong contrast. Its characteristic folded red roof makes it a striking feature of the neighborhood.
 The rear wall and the façade form part of the roof, which is supported on both sides by a row of columns. The resulting galleries have walls of red brick in which the wheelchair ramps and the stairs have been integrated. The first floor on the West side of the building is recessed. The foyer beneath the overhanging roof receives daylight from both sides through its glass wall. The entrance pierces the vertical wall which rises from the ground as a continuation of the folded roof profile and marks the entrance like a massive sign. the roof is an ironical allusion to the debate that has been going on for decades about the integration of tradition in modern Chinese architecture.
 Project: Auditorium voor de basisschool Wuyi / Auditorium Wuyi primary school
 Architect: standardarchitecture, Beijing
 Locatie / Location: Beijing
Programma / Programme: Auditorium
Ontwerp-Oplevering / Design-Completion: 2002-2003
Bouwterrein / Site specifications: 4.100 m²
Bouwoppervlak / Building surface area: 1.500 m²
Foto's / Photos: Chen Su